UN peacekeeping operations around the world confront significant pressures, whether intractable political crises or operating environments that are deadly to themselves and the people they serve. Over the past few years, the UN has sought to foster a wide range of support for its missions, exemplified by the secretary-general's Action for Peacekeeping (A4P) agenda and the A4P+ priorities for 2021-23.
While UN member states regularly affirm their commitments to UN peacekeeping, the UN Secretariat and field missions are still drivers of various reform initiatives. The 2021 UN Peacekeeping Ministerial, convened from 7-8 December, 2021, in Seoul, Republic of Korea, was therefore an opportunity for countries to back up their rhetorical support to peacekeeping with concrete action.
After nearly two years of advocacy, preparations, and deliberations, what did UN peacekeeping's most prominent pledging conference secure in terms of personnel, capabilities, and finances? This piece analyzes the member state pledges from Seoul and contextualizes them against the UN Secretariat's requests for support detailed in the August 2021 pledging guide and the September 2021 statement of uniformed capability requirements.
Who Pledged?
Sixty-four UN member states made pledges at the Peacekeeping Ministerial. This high level of participation represented a 42 percent increase compared with the 2019 ministerial and a return to similar levels of participation as seen in the 2016 and 2017 conferences. This tangible support resonates even stronger considering the systematic budgetary pressures many countries face because of the COVID-19 pandemic.
Click to enlarge.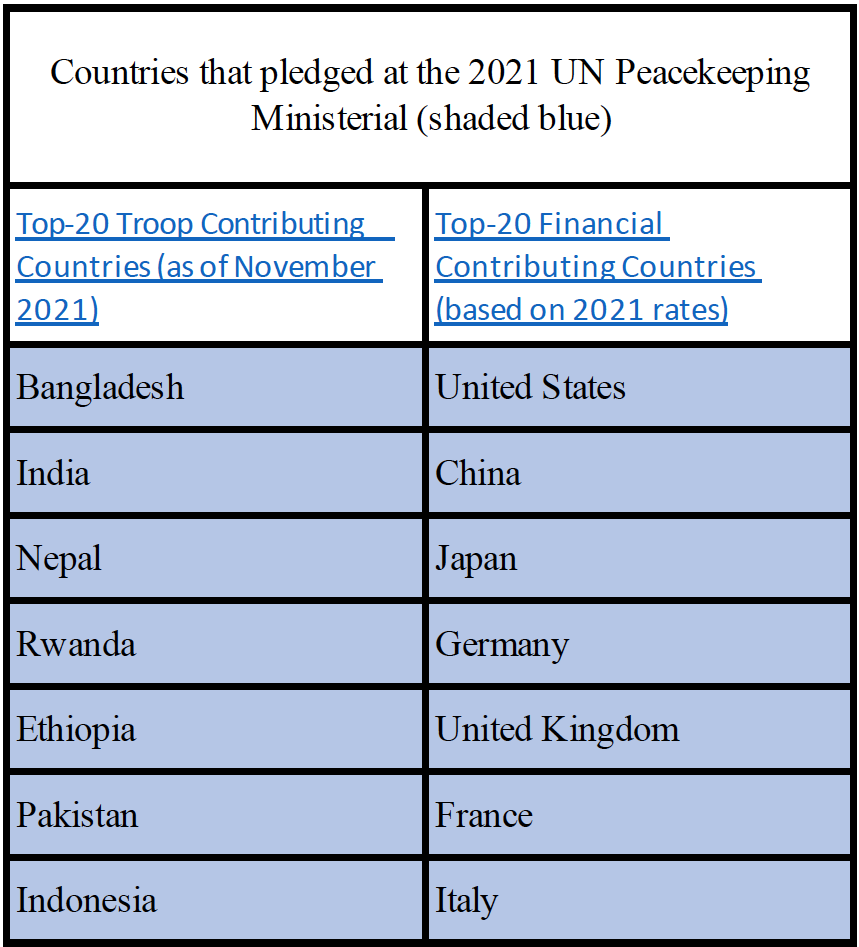 Click for full listing.
Thirteen of the twenty largest troop and police contributors, and seventeen of the twenty largest financial contributors to the peacekeeping budget offered pledges at the 2021 Ministerial (with China the only country in both categories). These countries represented 45 percent of the total number of countries that offered pledges.
Having UN peacekeeping's top supporters also provide a large proportion of pledges at the Ministerial is a double-edged sword: on the one hand, it shows the conference's relevance and impact as a seminal event for UN peacekeeping, but on the other hand, it also reflects how these missions depend on a relatively small number of member states for critical resources.
Pledge Summary
This analysis groups the member state pledges into the same eight categories the UN Department of Peace Operations (DPO) uses in the official pledge list: funding, military, and police (uniformed) capabilities, training and partnership, women, peace, and security (WPS), technology, environment, medical, and miscellaneous.
In total, the sixty-four member states made 152 total pledges across these eight categories, with many countries offering pledges in different categories. Even though each pledge is charted in a single category, some pledges fall into multiple categories (for example training initiatives that focus on WPS, or funding earmarked for UN peacekeeping technologies). One important caveat is that different pledges have different levels of impact depending on the capability being provided and the size and duration of the contribution.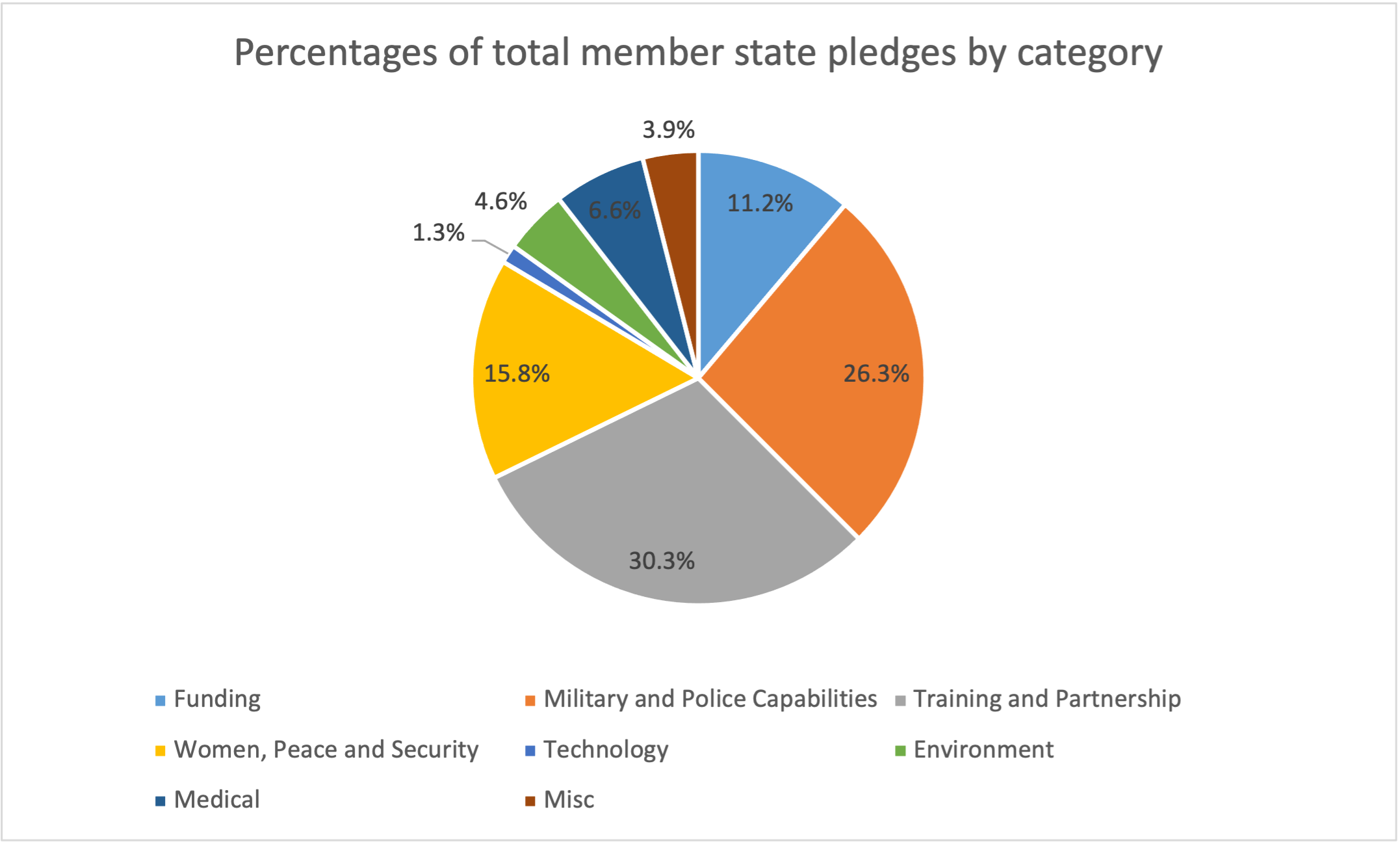 The Preparatory Conferences aimed to help member states think through what diverse pledges could look like. But as with previous conferences, the 2021 Peacekeeping Ministerial gravitated towards contributions of uniformed personnel, capabilities, and training, accounting for 56 percent of all pledges. But even noting this concentration, the other pledges at the Ministerial show the emphasis placed on supporting peacekeepers' growing technical skills.
Uniformed Capabilities
Forty-five countries pledged some kind of uniformed capability. Many pledges include commitments of infantry battalions, companies, and formed police units that are the building blocks of UN peacekeeping operations. Specialized assets like quick reaction forces, aircrafts and helicopters, unarmed aerial vehicles and systems, and counter-Improvised Explosive Device (C-IED) and Explosive Ordnance Disposal (EOD) equipment featured prominently since they are invaluable for helping protect civilians and peacekeepers in complex operating environments like the Central African Republic and Mali.
Click for full listing.
DPO's Peacekeeping Capability Readiness System (PCRS), the Secretariat's mechanism for force generation registration, preparation, and selection, provided the below September 2021 update on the "minimum critical pledges" required across different capabilities. By and large member states met or exceeded pledges in ten of the nineteen categories. Publicly available data does not allow us to make a match-for-match comparison, but a comparison of the number of units with the number of countries is indicative.
Air assets help peacekeeping operations protect civilians, improve their own safety, and strengthen their effectiveness; seven countries combined to pledge at least 25 helicopters. The Republic of Korea embraced its role as host of the Peacekeeping Ministerial by pledging 2 attack helicopter units (to be sustained in partnership with other countries).
Commitments of Quick Reaction Forces (QRFs) and Unmanned Aircraft Systems (UAS) were two other capability gaps filled during the Ministerial. Thirteen countries pledged new QRF units or companies (including one QRF earmarked for MINUSCA). Six countries pledged new UAS units or systems. These capabilities were in high demand throughout much of 2020 and 2021, and these pledges will help peacekeeping operations become improve their mobility.
While many of the pledges will reinforce UN peacekeeping's uniformed capabilities, some critical asks were not met. Member states did not pledge any reconnaissance (recce) companies or any formed police units (FPUs) with Special Weapons and Tactics (SWAT) and French language expertise.
Training and Capacity Building Partnerships
Two-thirds of participating countries submitted at least one pledge related to training and capacity building. These initiatives take a variety of formats, including those spearheaded by the pledging country, organized in partnership with the UN Secretariat through the Triangular Partnership Programme (TPP) or the Light Coordination Mechanism (LCM), or through bilateral support to partners' training efforts.
Member states emphasized pre-deployment and mobile training packages focusing on many substantive areas. Nine countries committed to sponsoring national training initiatives and international training seminars, and twelve countries offered support to regional training initiatives. Germany, Japan, the United Kingdom, and the United States centered their pledge packages around capacity-building initiatives, many of them in partnership with various troop-contributing countries. Morocco was the only country to commit to translating training materials.
Trainings proposed by member states are expected to cover a wide array of issues, grouped broadly into the below categories (simplified by authors for ease of categorization).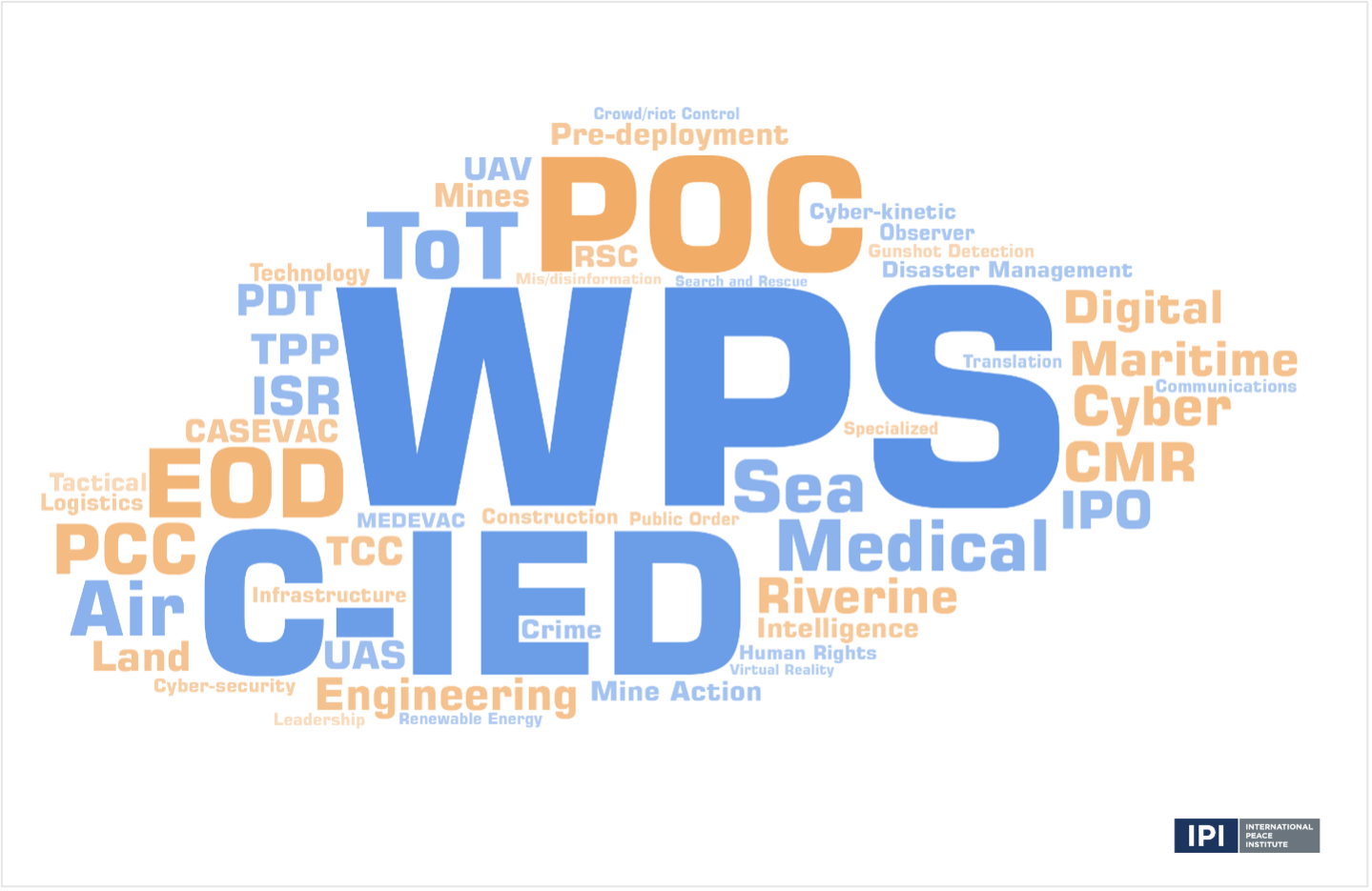 Member states made the most pledges in the following training areas:

Despite this overwhelming support, member states and the UN Secretariat will need to continue closing gaps in peacekeeper trainings. Crucially, only a handful of member states embraced the call for long-term capacity-building partnerships that produce "sustainable, systemic, and institutional capabilities within TCC/PCCs." Many of the pledges reflected only short-term or once-off training support that do not generate long-term impact. Other training areas like "assessment, planning, and evaluation" were barely mentioned, and few member states offered language trainings for national defense structures and individual contingents, or help translating training material into Arabic or Spanish.
Women, Peace, and Security
As a commitment within the Action for Peacekeeping (A4P) agenda and a cross-cutting priority within A4P+ (2021-23), nearly half of the participating member states offered pledges to advance various components of the WPS agenda.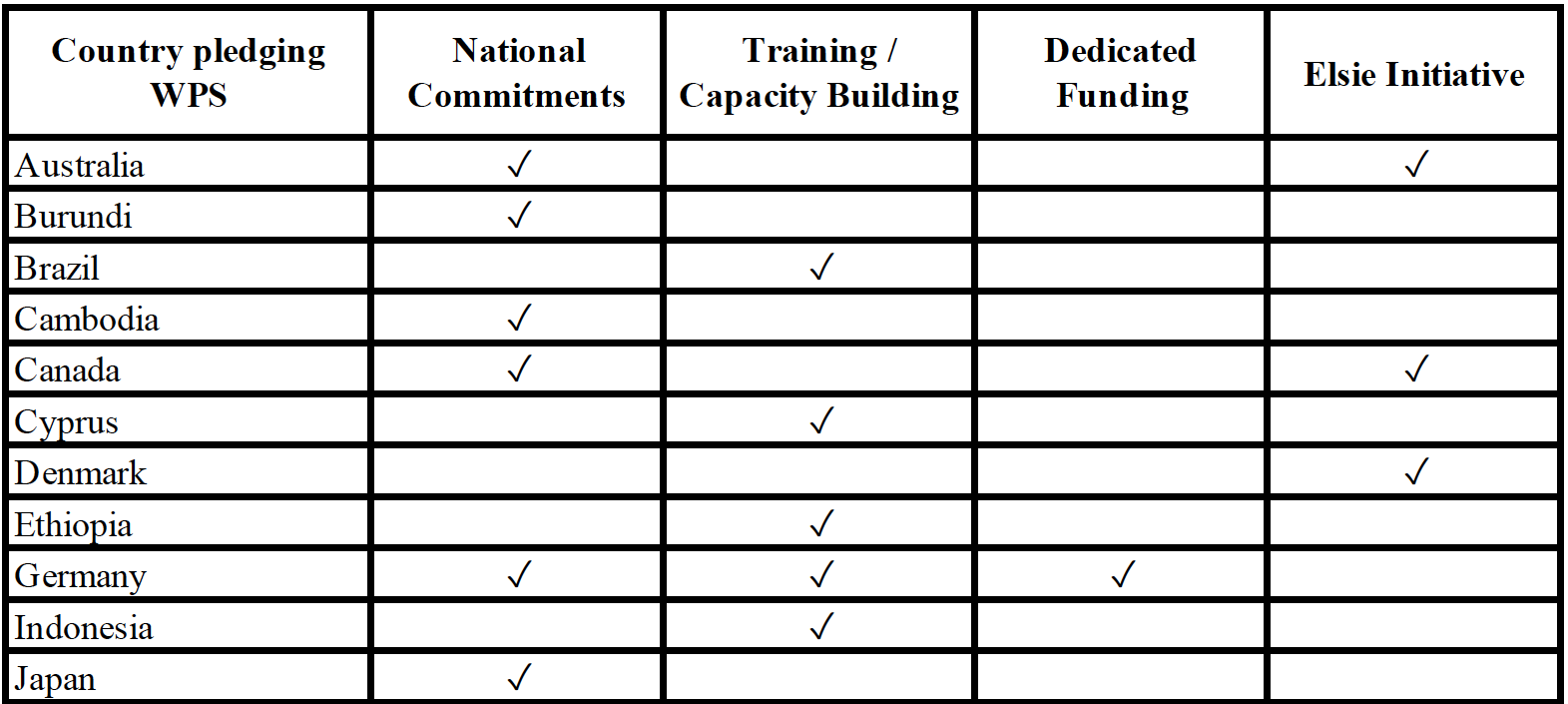 Click for full listing.
The majority of countries pledged national efforts to increase the number of uniformed women peacekeepers they deploy to UN peacekeeping operations. Cambodia, Malaysia, and the Republic of Korea offered specific numerical benchmarks for increasing their respective contributions of women's uniformed participation. A few countries committed to increased deployment of individual female staff officers and police officers. Rwanda and Ethiopia (two of the largest troop-contributing countries) committed to trainings on WPS for partners in their regions. Nine countries committed to hosting national and regional trainings on topics related to WPS, and four countries offered financial support to Canada's Elsie Initiative.
This pledge list nonetheless reflects the considerable gaps that member states still need to overcome. While the vast majority of countries committed to increasing their deployment of uniformed women to UN peacekeeping operations, only a few detailed explicit commitments to DPO's minimum benchmarks for women's representation as reflected in the Secretary-General's Uniformed Gender Parity Strategy. Only two countries (Norway and Tunisia) pledged engagement platoons, and neither explicitly committed to ensuring it maintained a 50/50 gender balance as requested by DPO. No military gender advisors were pledged (although there was a gender advisor course). Only a few pledges mentioned gender broadly—beyond the WPS agenda—and many of these focused narrowly on gender-based violence.
Funding
While the majority of pledges focused on core peacekeeping issues like uniformed capabilities and capacity, seventeen member states used their financial pledges to support a wide array of priorities both directly and indirectly related to UN peacekeeping operations.
The UN's Peacebuilding Fund was the largest beneficiary, with six member states combining to pledge an estimated $97 million. Some countries pledged annual support and extra-budgetary funding for DPO, the Department of Operational Support (DOS), or the Department of Political and Peacebuilding Affairs (DPPA). Member states also earmarked direct support to a variety of specialized funds, mechanisms, and projects that deal with interrelated priorities for UN peacekeeping. The United States was the only country to earmark funding to deploy individual specialists to UN peacekeeping missions (focusing on monitoring and evaluating POC and on helping missions to counter misinformation).
Many of the priorities receiving funding overlap with the DPO-DOS funding appeal and areas that the UN Secretariat and missions maintain extra-budgetary projects. Some, like medical capacity building and the UN Joint Project on Transitions, are established, cross-cutting priorities. Others, like UN Smart Camps or efforts to combat disinformation, are emerging areas of focus where this financial support may provide a much-needed jump-start. But as with a lot of extra-budgetary funding, these are short-term boosts that do not always help the UN build sustainable capacities.
Technology and Medical Support
The Republic of Korea championed technology and medical capacity building as cross-cutting themes for the Ministerial. Member states were encouraged to commit both stand-alone pledges on these themes and to commit pledges in other areas that intersected with these priorities.
Many countries embraced this challenge to incorporate technology systematically into their pledges, particularly through training initiatives, funding, and donating technological enablers. Some committed to supporting the implementation of the Strategy for the Digital Transformation of UN Peacekeeping, emerging technologies, enhancing casualty tracking systems and data-mining projects, the UN Smart Camp initiative, and the UN Innovation Hub. Six countries committed to supplying renewable energy sources to deployed contingents and to helping the UN Secretariat reduce the environmental footprint of peacekeeping operations.
On the medical side, member states committed training of trainers initiatives and specific courses on field medicine, basic first aid, and medical evacuation. Others pledged support to the UN Secretariat to enhance its policies and practice on post-traumatic stress disorder and mental health for uniformed personnel, emerging areas of focus for the UN. Nine countries contributed field hospitals, while a few countries earmarked enhanced medical capabilities for MINUSMA, the deadliest mission for UN peacekeepers in 2021.
Seeing the Forest through the Trees
Member states' pledges will offer valuable support to UN peacekeeping operations as they strive to better implement their mandates, improve performance, and ultimately save lives. But it is important that the member states who pledged do not just rest on their laurels, as announcing commitments at the Ministerial is only the first step. These member states now need to work closely with the UN Secretariat to take their respective pledges through DPO's PCRS stages to get them ready for deployment.
And at a more strategic level, additional money, personnel, and tools are necessary but insufficient to help UN peacekeeping achieve their ultimate goals: creating the space for sustainable political settlements and ending armed political violence. Unfortunately, political crises and their structural dimensions continue to impede the counties where peacekeeping missions operate.
Renewed and collective political commitment is the fulcrum of countless Security Council resolutions, the Declaration of Shared Commitments, and the A4P agenda and A4P+ priorities. Member states will do well to add this renewed commitment to future pledges in order to make Peacekeeping Ministerial conferences truly transformative.
Daniel Forti is Senior Policy Analyst at the International Peace Institute's Center for Peace Operations. Mark J. Wood is Research Assistant at IPI's Center for Peace Operations.