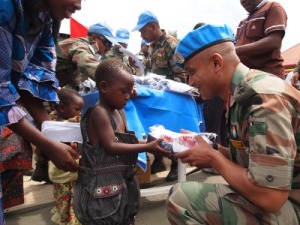 UN peacekeepers in the Democratic Republic of the Congo are being asked to take on ever-more complex tasks. They need to be able to take offensive measures against rebels, but they also need to understand the ramifications of their actions under international humanitarian law. They need to ensure the physical protection of civilians but also need to contribute to security sector reform, promote the rule of law, and engage in the protection of human rights. Are UN peacekeepers being trained to carry out their multifaceted roles effectively?
Training is a key element in the success or failure of UN peacekeeping operations. The UN's historical experience has shown that under-prepared peacekeepers cost lives and endanger missions. Yet training is often taken for granted or considered less relevant than the outcome of an operation.
Key Conclusions

In the face of increasingly multidimensional operations, UN peacekeepers need specialized training.
Despite advances in training over the last two decades, common standards across trainings and systematic performance indicators are absent.
To ensure that peacekeeping operations have access to the right people with the right skills, a more strategic and coordinated approach to training is needed from the UN, member states, and training institutions alike.
Analysis

"Peacekeeping is not a job for soldiers, but only soldiers can do it." Former UN secretary-general Dag Hammarskjöld's famous "paradox" implies that a typical soldier is not naturally a good peacekeeper, unless she or he acquires critical knowledge and skills that only specific peacekeeping training can provide.
In practice, special training is needed because UN peacekeeping involves more than the basic military tasks for which soldiers are—or should be—already trained. If soldiers without peacekeeping-specific training might have managed to get by in early UN observation missions with straightforward and limited mandates, this is not the case in modern multidimensional operations, where a number of different and sophisticated skills are required.
For this reason, the Brahimi Report stated that peacekeeping training needs to be understood as a crucial part of effective UN operations. In recent years, the UN has taken steps to implement the Brahimi Report's recommendations with regard to training. In particular, in May 2008 the Department of Peacekeeping Operations set out a three-year UN Peacekeeping Training Strategy, accompanied in October that year by the first Strategic Peacekeeping Training Needs Assessment. These documents are the cornerstone of ongoing efforts to establish a coherent but constantly evolving training strategy.
In addition, in the last twenty years, there has been a considerable increase in the number of public and private national, regional, and international centers providing training for UN peacekeepers. This development represents significant potential capacity for training UN peacekeepers more effectively.
However, in my research for a new IPI report that evaluates the UN training strategy, I found that the proliferation of training centers also poses challenges in relation to the dispersion of funding and the coordination of various training actors. There is a need to ensure that training, no matter where it is done and by whom, adheres to common standards and produces peacekeepers with the necessary skill sets. And while the UN is at the heart of the global training architecture, it can achieve meaningful results only with the support of member states.
Further investigation also shows that measures to ensure that all trainees are eventually deployed to UN peacekeeping operations (or serve as national trainers for peacekeepers) have thus far been inadequate. Equally important, training institutions have shown limited interest in evaluating the quality of trained personnel and measuring the added value that training brings. In fact, systematic performance indicators to evaluate UN peacekeepers more broadly have yet to be implemented.
Ultimately, the challenge that the UN, troop- and police-contributing countries, and training centers face is twofold: to adequately train all those who are going to be deployed and to effectively deploy all those who have been trained. As a corollary, member states need to accept that, in line with the Brahimi Report's recommendations, peacekeeping contingents that do not meet minimum UN standards of preparedness should not deploy.
Alberto Cutillo is an Italian diplomat and author of the report Deploying the Best: Enhancing Training for United Nations Peacekeepers, the fifth report in IPI's Providing for Peacekeeping series.
About the photo: Members of the UN Organization Stabilization Mission in the Democratic Republic of the Congo deliver supplies for vulnerable children in Sake, North Kivu, May 2013. (UN Photo/Clara Padovan)