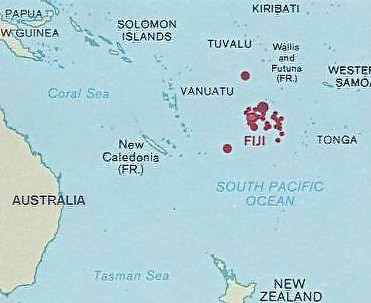 In much anticipated elections in the Pacific island state of Fiji on September 17, Fijians elected a government led by the former military commander who usurped power in a coup in 2006. After eight years of authoritarian rule, Rear Admiral (Ret) Frank Bainimarama has secured a mandate from the people from these elections. His party, FijiFirst, won 32 seats, a clear majority in the new 50-seat parliament.
The US State Department has congratulated the Fiji people for the "steps they have taken towards restoring democracy, including conducting the historic vote on September." Julie Bishop, the foreign minister of Australia—Fiji's major trade and investment partner—has similarly welcomed the historic elections in Fiji but cautioned that there was more to democracy than holding elections.
The United States and Australia, Fiji's traditional partners, are right to recognize that elections are only the first step in consolidating the return to democracy in Fiji. The tiny Pacific nation, better known for its popular tourist resorts and bottled spring water, has a troubled history of military intervention in democratic processes and experienced four coups over two decades. A policy brief published by the Lowy Institute recommended that Fiji would need targeted international assistance to rebuild and strengthen democratic institutions, civil society, media, and the judiciary if full democracy was to be restored to this country of 880,000 people.
But it is far from clear whether the United States and Australia will be able to influence Fiji while it is led by Frank Bainimarama, who is likely to remain embittered about Western sanctions applied to him, his inner circle, and the Fiji military.
Australia and New Zealand, along with the United States, the European Union, and other Pacific island states sought to isolate Fiji after the 2006 coup as a means of pressuring military commander Frank Bainimarama to hold early elections. Fiji was suspended from the Pacific Islands Forum and the Commonwealth of Nations in 2009. Fiji reoriented its foreign policy away from a dependence on its traditional partners, Australia, and New Zealand. Bainimarama's government built new diplomatic relations with some 70 countries and enhanced its ties with China and Russia.
Fiji, excluded from the Pacific islands region's premier organization, the Pacific Islands Forum, attempted to redesign regional architecture in its favor. It established the Pacific Islands Development Forum as a means of reclaiming its lost leadership on regional policies. Fiji used its 2011-2013 chairmanship of the Melanesian Spearhead Group, a sub-regional organization which excludes Australia and New Zealand, to promote Fiji's particular policy priorities. Fiji also made much of its role as Chair of the G77 and China in 2013 to promote issues important to small island states.
Bainimarama will see FijiFirst's landslide election victory combined with his high personal vote as vindication of not only his governing style but also his approach to foreign policy. He will be emboldened to continue to pursue relations with a range of non-traditional partners, ranging from China and Russia to the Gulf States and Brazil. Foreign Minister Ratu Inoke Kubuabola praised Qatar's assistance for the safe release of 43 kidnapped Fijian UN peacekeepers in the Golan Heights as concrete evidence of the value of Bainimarama's expanded diplomatic network. Fiji's military has an elevated importance in Fiji society, in part due to its long history of personnel contributions to international peacekeeping missions.
Australia and other Pacific island countries will be keen to see Fiji return to the regional fold to advance important regional trade and security initiatives that have been weakened by Fiji's absence. But Bainimarama's electoral success, combined with perceived foreign policy successes, including increasing Chinese investment in Fiji and military deals with China and Russia may complicate Fiji's re-engagement with the region.
Fiji has a history of promoting itself as the natural leader of Pacific island states. An elected Prime Minister Bainimarama, newly legitimized and assertive, will be keen to uphold that tradition but he will only do so on his own terms. He will want to demonstrate Fiji's strategic independence from the Australia/United States-centric regional order.
A continuation of Fiji's creative courting of China and Russia may frustrate Canberra and Washington but will not overturn the existing geo-strategic order in the region.
Fiji, like many developing nations, has been expanding trade and investment ties with China and other East Asian economies. The expansion of China's trade, investment, and aid presence, however, should not be viewed as a coordinated challenge to Australian and US security interests in the Pacific. The Chinese companies engaged in Fiji are governed principally by economic incentives, and there is little evidence of strategic direction from the Chinese political or military leadership.
Although Russia has recently agreed to supply weapons to Fijian peacekeepers, its engagement with the wider Pacific islands region is largely limited to aid deals done in exchange for support in the United Nations. Its enhanced relationship with Fiji was initiated by Suva, not by Moscow, and lacks the depth of Fiji's ties with Australia.
Fiji's successful elections, judged as credible by the Multinational Observer Group, create an opportunity for Australia to revive its diplomatic and defense cooperation. If Australia is able to leverage much needed assistance to Fiji's influential military, it can rebuild a constructive diplomatic and defense relationship. This should encourage the Bainimarama government to move away from its cavalier approach to foreign policy and enhance its contribution to development and security in the Pacific islands region.
Jenny Hayward-Jones is the Director at the Melanesia Program at the Lowy Institute for International Policy in Sydney, Australia. Mark Tamsitt is a Research Associate in the Program.