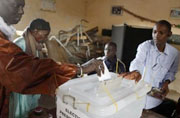 Senegalese went to the polls on February 26 for the tenth presidential election since December 1963. Incumbent President Abdoulaye Wade's determination to run for a third term, after twelve years in office, raised violent protests in the run-up to the vote. Anticipating a crushing victory from the election's first round, President Wade was humbled by a modest win against Macky Sall, his former protégé and ex-prime minister. As the country prepares for a tense runoff on March 25, expectations are high over Senegal's likely second transition.
Key Conclusions
Senegal has long been considered a model of democracy and stability in a troubled West African region. However, this status was recently threatened by President Wade's attempts to renege on the democratic gains he made at the start of his rule. As the Senegalese population readies itself for a highly possible transition, the enduring challenges of peace and democracy call for all sides of the political spectrum to heed the people's voice and respect their choice of the country's next president.
Analysis
Considered an anchor of stability and democracy since its independence in 1960, Senegal was shaken by four weeks of violence before the election, which left at least six people dead and several others injured and arrested. The massive protests erupted following the confirmation by the Constitutional Court of President Wade's controversial bid for a third term in office.
First elected with 58.49 percent of the vote by a coalition calling for change after forty years of socialist rule in 2000, President Wade was initially credited with Senegal's early democratic governance efforts and the adoption of a new constitution, which introduced a two-term limit in 2001. Improved economic indicators and several large infrastructure projects—of which the new international airport being built outside Dakar remains to be completed—are also counted among President Wade's achievements. At the continental level, Abdoulaye Wade was, with Algerian President Abdelaziz Bouteflika and former presidents Thabo Mbeki of South Africa and Olusegun Obasanjo of Nigeria, one of the founding fathers of NEPAD, the New Partnership for Africa's Development launched in October 2001.
However, after his reelection in 2007 and a denounced drift toward more authoritarian governing, President Wade's popularity started to decline. Weakening of democratic institutions, police brutalities, as well as the intimidation and arrest of journalists and opposition and civil society leaders raised concerns among human rights groups. Allegations of corruption, the deterioration of living conditions, and the worsening of energy insecurity marked by repeated power cuts further increased social tensions. These were aggravated by the construction of "prestige projects" such as the $20 million North Korean-built statue of the "African Renaissance" in Dakar, in a context of high unemployment. Moreover, President Wade's attempts to lower the percentage of votes required for a first-round win from 50 to 25 per cent to facilitate his re-election—and to promote his son Karim to a proposed position of Vice President—continued to anger the population ahead of the election.
Despite several calls for the 85-year-old president to retire, followed by a failed attempt by former President Obasanjo, sent in by the African Union and ECOWAS (the Economic Community of West African States), to mediate the month-long crisis, Senegalese went to the polls for an election that was considered peaceful, orderly and well-managed. Confident he would secure a third term with a first-round victory, President Wade was unable to garner the outright 50% majority of votes required to avoid a runoff. He will face 50-year-old Macky Sall in a tight runoff.
Abdoulaye Wade enjoys the benefits of incumbency, including a stronghold on the judicial system—namely the Constitutional Council, which is competent to decide on electoral matters. This has raised concerns about the independence of the Council. Nonetheless, most opposition leaders and civil society groups are lining up behind his challenger to unseat the octogenarian president. Ahead of the March 25 runoff, intense political negotiations and the courting of the country's powerful Islamic brotherhoods are underway, as their voting recommendations have traditionally influenced voters in the 95 percent Muslim nation.
The Senegalese people will soon decide whether to grant President Wade the third term he is requesting to finish his "grand projects." This decision must be respected by all political parties and civic groups. Most importantly, the current administration and electoral management bodies must heed the population's voice, should they decide to peacefully and democratically end President Wade's twelve year-rule.
Mireille Affa'a-Mindzie is a Senior Policy Analyst at the International Peace Institute.
About the photo: A Dakar, Senegal polling station, February 27, 2012. Photo credit: Pan-African News Wire File Photos/Abayomi Azikiwe .