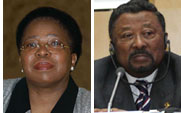 The first meeting of African leaders since the death of Libya's Muammar Qaddafi witnessed a fierce battle for the renewal of the AU leadership, especially during the election of a new chairperson of the commission (the secretariat of the AU). The meeting, the 18th Ordinary Summit of the African Union (AU), took place January 23-30 in Addis Ababa, Ethiopia under the dynamic theme of "Boosting Intra-African Trade," and included the inauguration of the new $200 million AU headquarters, a generous gift from China. Ending in a deadlock and postponed until the next summit in June 2012 in Malawi, the failed election has the potential to further weaken an already fragile AU.
Key Conclusions
For the continental body to be seen as a vigilant and reliable interlocutor by its international partners, the AU needs a credible and broadly-accepted leadership. AU members supporting candidates to the Union's top jobs must display the necessary influence and credibility that will ensure successful (even if highly-contested) elections. Moreover, stronger commitment and actual involvement of AU member states are needed to ensure the organization's autonomy and sustainability, a critical condition for any successful commission chairperson.
Analysis
The much-anticipated election of the new AU commission chairperson pitted South African Nkosazana Dlamini-Zuma against the incumbent, Gabonese Jean Ping, who was elected in 2008 for a four-year term. While the election brought hope of further democratic entrenchment and gender advancement at the highest level of the continental body, it also exposed the latent divisions facing the AU which urgently need to be addressed for the organization to serve as an effective powerhouse.
Considered "probably the most powerful woman in South African politics" when she was appointed foreign minister by President Mbeki in 1999, Mrs. Dlamini-Zuma had previously served as health minister in Nelson Mandela's cabinet, and later was moved to the home affairs department by President Jacob Zuma, her ex-husband, in 2009.
Notwithstanding an unwritten AU rule stipulating that the chairperson of the commission should come from a "small country," Mrs. Dlamini-Zuma was presented as South Africa's candidate and a strong contender to win the election. However, despite a number of factors, including official support from the Southern African Development Community (SADC) with members such as Angola and the Democratic Republic of Congo; the likely backing from several East African countries; and promises of a stronger AU moving away from its colonial ties, Mrs. Dlamini-Zuma was unable to unseat Mr. Ping. South Africa's uncertain foreign policy, its criticized lack of direct involvement in the AU affairs, combined with fears of regional hegemony and the enduring specter of xenophobic attacks toward other African nationals confirmed the need for greater efforts for the Southern African country to formalize its position as a leader on the continent.
Mr. Ping expected to be re-elected, as an experienced and tactful diplomat who led the AU through the sudden crises that saw the organization marginalized and weakened in 2011—namely, its erring and disagreements over the post-election standoff in Cote d'Ivoire; the popular uprisings in the North that culminated in the Libyan civil war; as well as ongoing conflicts in Somalia, Darfur, and the increasing tension between Sudan and newly-created South Sudan. He was assured of the support of French-speaking countries from both Central and West Africa and that of other West African states, including demographic giant and South Africa's rival for a permanent seat on the UN Security Council, Nigeria.
Being the candidate of continuity, and characterized by a strong reliance on the international community for AU funding, Mr. Ping was unable to convince African leaders to grant him a second term; a record held only by two former OAU Secretary-Generals, Guinean Diallo Telli and Tanzanian Salim Ahmed Salim. After three consecutive rounds of voting where he held a slight lead over his challenger, Jean Ping missed the necessary two-third majority votes of 36 (winning 32 votes) in a solitary fourth round, to be reconfirmed in his position. A last-minute compromise entrusted him with the chairmanship of the commission for the next six months.
As calm returns to Addis Ababa, there are key observations that can be drawn from the recent fight. Africa continues to face serious challenges, including emerging security threats in Nigeria and the Sahel, democratic and governance trials in several countries, and a population whose majority endures great poverty. The AU will not regain the ground it lost in 2011 and realize its ambition to be the driving force behind continental peace, security and development in the absence of a strong and broadly-supported leadership.
Mr. Ping is, in principle, barred from re-election in July 2012. Though South Africa has already indicated that Mrs. Dlamini-Zuma is ready to run, if "SADC comes and says she must stand again," new candidates for the AU top job might also come forward. Leaving their national interests behind and looking forward to a more solid and consistent Union, African leaders owe it to their populations to consensually and serenely appoint an independent, competent, and trusted chairperson of the commission.
Besides, mature leadership requires investment in time and consideration. Thus, rather than hasty courtship and last-minute bargaining, potential candidates must be backed by countries that demonstrate the required influence and credibility to gather a clear majority of AU member states beyond a welcome democratic exercise. In addition, and to facilitate the commission chairperson's work toward the organization's much needed autonomy and sustainable resources, stronger commitment and effective involvement are needed from African countries themselves. Only when the AU house is clearly and durably stable will it be acknowledged and appreciated as a partner by an international community equally in need of rapid and measurable peace, security and development dividends across Africa.
Mireille Affa'a-Mindzie is a Senior Policy Analyst at the International Peace Institute
About the photo: Nkosazana Dlamini Zuma and Jean Ping