At the United Nations General Assembly in September, member states pledged $152 million to achieve the new "sustaining peace" vision for the world body's peacebuilding architecture, which was only 51% of the amount being requested. This raises serious questions about the level of commitment necessary to implement a more expansive approach to peacebuilding that emphasizes conflict prevention, mediation, management, resolution, and long-term resilience.
The September 21 conference sought pledges totaling $300 million over three years for the UN Peacebuilding Fund. "$300 million for the years 2017-2019 will only begin to redress the imbalance between what the world spends on warfare and crisis response, and what it devotes to preventing conflict and building peace," Secretary-General Ban Ki-moon told attendees. "Without the Peacebuilding Fund, we will be forced to stand by as we witness the preventable loss of countless lives and the extinguishing of hope for millions more."
The United Kingdom topped the list of pledges and contributed about 27% of the total raised, followed by Germany with about 15%. The United States was one of the lowest contributors, pledging only $300,000, or 0.2% of the total. The pledges will be used to cover Peacebuilding Fund projects in more than 20 countries during 2017-2019. The amount was more than some experts expected but still falls short of the fund's goal of having working capital of $100 million per year. It is enough to cover current work but provides no funding for new initiatives to drive forward sustaining peace. The total budget of the Peacebuilding Fund remains just 1.9% of that of the Department of Peacekeeping Operations.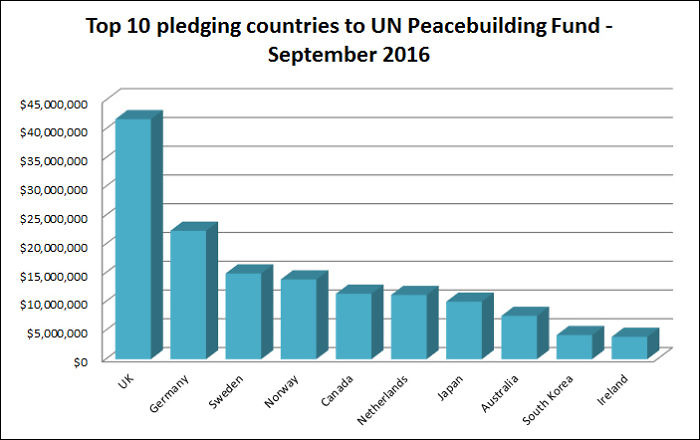 The concept of sustaining peace has gained traction since it was introduced by the Advisory Group of Experts' Review of the UN Peacebuilding Architecture in 2015. In April this year, the UN Security Council and General Assembly passed identical resolutions on this new vision, with their preamble defining sustaining peace as including "activities aimed at preventing the outbreak, escalation, continuation and recurrence of conflict, addressing root causes, assisting parties to conflict to end hostilities, ensuring national reconciliation, and moving towards recovery, reconstruction and development."
The resolution gave UN peacebuilding, and especially the Peacebuilding Commission, a new lease on life. It reaffirmed the commission's role in bringing a strategic and coherent approach to peacebuilding efforts. This followed an acknowledgement that the current architecture is not working in providing post-conflict relief and that expectations placed on the commission are far beyond its current abilities.
April's resolution invites the secretary-general to report back to the next General Assembly session on implementation efforts. It also inspired a member state Group of Friends of Sustaining Peace, chaired by Mexico and including 30 members to date. There is no lack of stated support for the new vision, but how can the lack of commensurate financing be rectified?
In line with the recommendation from the resolution for more sustainable funding, an ad hoc Working Group on Financing has been formed and is currently exploring funding options for a "whole of system" approach to sustaining peace within the UN. This will require a conceptual and policy shift toward identifying and strengthening factors associated with peaceful and resilient societies, rather than drivers of fragility and violence. Only when sustaining peace is seen as a process involved in all aspects of international interventions, including being linked to UN peace operations, will it become a stronger priority for donors.
But sustaining peace still faces a conceptual challenge that may be deterring funding: What exactly does it look like on the ground? And how does it differ from the UN's previous "post-conflict peacebuilding" approach? The UN community needs to unpack and identify what prevention tools are available and lacking; pinpoint keys to success or failure; improve communication between UN headquarters and the field to foster more coordinated analysis; overcome fragmentation within the system; and determine the main obstacles to civil society cooperation.
Further, sustaining peace must be connected to action at the local level. Local actors are intrinsic to prevention and long-term sustainable peace, and their insights and lessons should be part of the policy debate. Building local capacities for conflict management should be prioritized. The Peacebuilding Fund recently decided to fund non-government organizations for work on the fund's new youth promotion initiative and its third gender promotion initiative. This is a significant step in the right direction, but it remains just a start. Conflict analysis and planning should be conducted in conjunction with local actors, which are the groups that best understand conflict dynamics. They are also the one who will remain after UN missions leave and will be tasked with ensuring the durability of interventions.
Working alongside the UN's Sustainable Development Goals, the sustainable peace framework provides an excellent opportunity to focus on the connection between peace and development and the need for long-lasting solutions. The need to move from a reactive to a proactive approach to conflict prevention should be obvious. What remains is to determine whether the UN can achieve this through its current structure and operating procedures. The next secretary-general, António Guterres, will need to move sustaining peace from a rhetorical phrase to a tangible framework that can be funded, operationalized, and assessed. September's pledging conference revealed that much more commitment is needed to sustain sustaining peace itself.
Lesley Connolly works with the Center for Peace Operations at the International Peace Institute.