Voters cast their ballots in six elections across Africa on March 20th—in Benin, Cape Verde, the Republic of the Congo, Niger, Senegal, and Zanzibar. As well as selecting new presidents and parliaments, the so-called "Super Sunday" also tested the future of term limits for African leaders. The results on that count were somewhat mixed: although Congo's president became the latest to head toward a third term, Senegalese voters reduced the presidential term from seven to five years, and voters in Benin rejected their term-limited president's hand-picked successor.
African presidents defying term limits grabbed headlines throughout 2015. Referenda gave the presidents of Congo and Rwanda the greenlight to third terms, and, most notoriously, President Pierre Nkurunziza of Burundi's disregard for term limits brought his country to the brink of civil war. Tension mounted—and continues to mount—over the prospect of a third term for the president of the Democratic Republic of the Congo. And elections renewed the mandates of the presidents of Togo and Uganda, more than 10 years after they both removed term limits.
Indeed, according to some measures, perpetual incumbency is on the rise. A look at presidential terms stretching back to 1990 reveals that, although the average incumbency of African presidents dropped in 2012 to its lowest since 1996—in the wake of dramatic turnovers in North Africa and Côte d'Ivoire—it is again on the rise: at the beginning of 2016, African presidents had been in office an average of more than 10.5 years (see Figure 1). This is a crude measure not meant as a proxy for democracy or accountability—after all, until the 1990s more African presidential terms were ended by overthrow or assassination than by elections—but it is notable that the average incumbency now exceeds the prevalent limit of two five-year terms.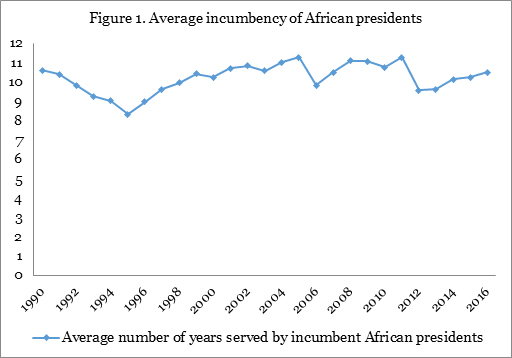 But, Congo notwithstanding, "Super Sunday" reaffirmed that term limits in Africa are not a dying breed. Senegal witnessed a bizarre twist in a drama dating back to 2011, when then-President Abdoulaye Wade reneged on his previous promise not to run for a third term. In a rebuke of third terms, voters at the time opted for his opponent, Macky Sall, who promised not only to abide by term limits but also to reduce his presidential term. Although the March 20th referendum was born from this promise, a coalition of opposition parties and civil society groups launched a "No" campaign, upset that the change would not apply to Sall's first term (it would apply to his second if he won re-election). What was likely Africa's first campaign between two sides both in favor of reducing a presidential term culminated in a "Yes."
Benin was Sunday's second source of optimism. In the first half of 2015, speculation was swirling that President Boni Yayi was mulling constitutional changes that would remove term limits—tainting the democratic reputation of his country, which had seen three peaceful transitions since 1990. But, especially after his party fell short of a majority in April's legislative election, the institutional path forward became murky; Yayi announced in November that he would "respect the constitution." Not only did he fail to stay on, but voters also rejected his handpicked successor, electing instead Yayi's friend-cum-nemesis, Patrice Talon, who had refused to rally legislators in support of Yayi's proposed constitutional changes.
Senegal and Benin, moreover, are not isolated examples. The presidents of Mozambique and Tanzania stepped down in deference to term limits in 2015 (although their parties stayed in power). Looking at the historical evidence, between 2010 and 2015 eight African presidents reached their term limit, and only two successfully made it to a third term (see Figure 2). During the same period, more African constitutions gained term limits than lost them (see Figure 3)—most recently, the Central African Republic's in 2015 and Algeria's in 2016.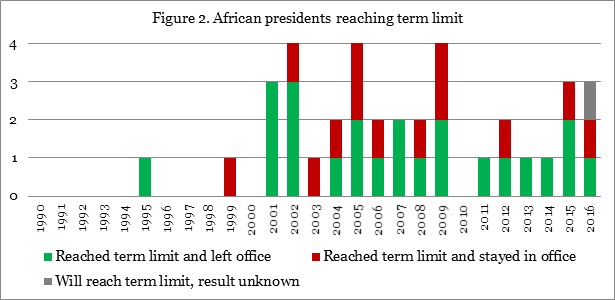 Across the continent, the vast majority of Africans supports presidential term limits. So how can Africans guide more of their leaders down the path of Benin and Senegal and away from that of Congo? The imposition of term limits in and of itself is generally not enough. The wave of term limits introduced in more than 25 African countries in the 1990s was not followed a decade later by a wave of presidential deference to constitutionality—although there was perhaps an initial ripple, with six out of seven presidents who reached their term limit in 2001 and 2002 stepping down (see Figure 2). In some countries term limits may have become enough of an institution to exert their own pressure on incumbents, but many long-lasting incumbents are unlikely to see a constitutional article as a major hurdle.
The natural enforcer of term limits would seem to be a combination of public pressure and national institutions. Presidents generally have three avenues for avoiding term limits—legislative approval, judicial approval, and constitutional referenda—each of which can provide opportunities to block them. In Benin, President Yayi faced an opposition-dominated legislature (legislatures have also voted against third terms in Zambia, Malawi, Nigeria, Niger, and Burundi). In Senegal, the constitutional court ruled in favor of President Wade's third-term bid, but the public rejected it.
But the experiences of Benin and Senegal will not translate to many African countries. National institutions are often not a reliable check on presidential power. In Congo, President Denis Sassou Nguesso, who had led the country for more than 30 of the past 36 years, faced a friendly legislature, and the constitutional court confirmed the results of the referendum in which more than 94% of voters endorsed a third term. Moreover, broad public support for term limits does not always translate into reality; despite 85% support for term limits, Benin's neighbor Togo voted its president into a third term in 2015.
While the long-term path toward entrenching term limits may lie in institutional consolidation and civic engagement, external actors, particularly at the regional and subregional levels, could play a more effective preventive role in the short term. To date, these efforts have mostly been reactive. The African Union's reaction to Burundi's third-term crisis responded to escalating violence rather than the third term that precipitated it. The president of Tanzania—a country that was an early pioneer of term limits in Africa—was the only regional leader to speak out against President Nkurunziza early on in his quest for a third term; President Yayi of Benin declined to criticize his peers when announcing his own decision to abide by term limits, arguing that "each country has its specificities."
The 2007 African Charter on Democracy, Elections and Governance already provides the legal framework for a more preventive regional approach. It provides for the automatic suspension of any state that experiences an "unconstitutional change of government" (Article 25), defined to include "any amendment or revision of the constitution or legal instruments, which is an infringement on the principles of democratic change of government" (Article 23). While this provision has provided the basis for a relatively strong and consistent AU response to coups—a threat all African presidents can sympathize with—the continent's many long-term presidents have blocked its broader implementation.
At the subregional level, the Economic Community of West African States (ECOWAS) has sought to pioneer more preventive approaches, as when it suspended Niger in 2009 in the midst of an escalating constitutional crisis over President Mamadou Tandja's bid for a third term. But ECOWAS's proposed region-wide two-term limit ran into opposition from the presidents of Togo (just elected to a third term) and the Gambia (well into his fourth). With lifelong presidents far from extinct, regional pressure may have to come from individual presidents, like those in Senegal and Benin, setting a positive example.
Albert Trithart is Assistant Editor at the International Peace Institute.