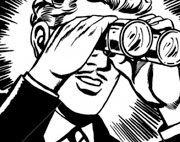 At the start of every month, the Global Observatory posts a list of key upcoming meetings and events that have implications for global affairs.
–
Peace & Security
May 2: US-Germany Meeting, Washington, DC
Angela Merkel visits Barack Obama for the first meeting between the heads of state since documents released by Edward Snowden revealed the National Security Agency (NSA) had tapped the German chancellor's cellphone for over a decade. The US has so far refused to share the NSA's file on Merkel or offer any concrete details of its intelligence gathering activities in Europe. Many Europeans have pressured Merkel to demand more cooperation on the issue, fearing that, without a US gesture to repair transatlantic relations, the West's ability to address the Ukraine crisis will be compromised, reports The Guardian.
May 5: G7 Energy Ministers Summit, Rome
With the crisis in Ukraine escalating, the leading industrialized economies that make up the G7 meet in Rome to discuss energy resilience and alternatives to Russian natural gas. Britain wants to use the G7 Energy Ministers Summit to find ways to reduce global energy dependence on Russia in order to lessen Moscow's ability to use its energy dominance as a geopolitical tool, reports Reuters.
May 5-6: UN Hears Vatican Officials in Sex Abuse Case, Geneva
The United Nations committee responsible for implementation of the Convention Against Torture hears Vatican officials on May 5-6. At issue is whether the Catholic Church's response to clerical sex abuse violates international norms against subjecting minors to torture. Earlier this year, the UN released a report condemning the Vatican's handling of the sex abuse scandal.
May 5: P5+1-Iran Talks Resume, New York
The next round of talks over Iran's contested nuclear program takes place in New York on the sidelines of the Nonproliferation Treaty Review at the UN. In this meeting, coming two months before the target end of negotiations, the world powers and Iran are set to begin drafting a final agreement. The issue of the capacity of the heavy water reactor in Arak, a problem many worried would inhibit a final accord, was reportedly resolved mid-April.
May 23: Pope Francis Visits Lebanon, Jordan
While retracing the steps of Jesus from Jordan to Israel has become a papal tradition over the last half-century, Pope Francis's journey to the region comes at a time of particular upheaval. On May 23, the Catholic leader visits Syrian war refugees in Jordan, both Muslim and Christian alike, in a bid to improve interfaith relations in the region. Not long ago, nearly 10 percent of people in the region were Christian, but that number has been rapidly decreasing for some years. After Jordan, Pope Francis visits sites in Israel and Palestine.
Elections & Votes
May 7: National Assembly, South Africa
On May 7th South Africans go to the polls for the fourth time since the end of white rule twenty years ago. Commentators widely expect that the African National Congress will retain control of the government and the Parliament, perhaps with a slightly reduced majority. Continued high unemployment rates and reports of extravagance by President Jacob Zuma underlie his party's modest loss.
May 16: General Elections Announcement, India
Before the five-year term for India's lower house ends on June 1, parliamentary elections in the world's largest democracy take place over nine phases so that the Indian Election Commission can better handle the poll volume and related security concerns. The IEC expects some 800 million voters to visit polling stations across the country's 543 constituencies from mid-April, with the results announced on May 16. The National Democratic Alliance is favored to win the most seats.
May 18: President, Guinea-Bissau
A run-off presidential race pits ex-finance minister Jose Mario Vaz against Nuno Gomes Nabiam, a bureaucrat running as an independent. Guinea-Bissau's powerful military, which has backed the transitional government since the 2012 coup, supports Mr. Nabiam. However, he took only 25 percent of the votes in the first round of polls compared to 41 percent for Mr. Vaz. There are concerns about violence and election fraud in the extremely poor West African state that has long struggled with corruption and drug trafficking.
May 20: President and National Assembly, Malawi
Four front-runners face off in the presidential race, including incumbent Joyce Banda. Also in the upcoming polls, seventeen parties field hundreds of candidates for the 193-seat National Assembly. This is the first election since the country transitioned to democracy in 1994 in which candidates will participate in televised debates. However, many candidates have so far avoided the debates. Several of them, the president included, have been caught up in a corruption scandal known as Cashgate in which huge sums were siphoned from public employee funds. There is concern about violence, and already in March, two people died after fighting broke out at a rally for President Banda.
May 25: President, Ukraine
After protesters ousted Ukraine's Viktor Yanukovych from office in February, early presidential elections are scheduled for May 25. However, Western leaders are increasingly concerned that eastern regions will be too unstable to hold legitimate polls, reports the BBC. If all regions are not fairly represented in the upcoming vote, it could fracture the already crippled sense of unity in Ukraine. At the same time, if the poll is postponed, it could further threaten the interim government's legitimacy. As the standoff between Kiev's forces and pro-Russia paramilitary groups persists, the idea of a fair election free of violence in places such as Donetsk or Slavyansk seems increasingly challenging.
May 25: President, Lebanon
The current presidency of Michel Suleiman will end on May 25. Although members of Parliament are mandated to elect a new head of state before this date, the post may remain—and has in the past—vacant for weeks or months. For a president to be elected, Lebanon's constitution dictates that the 128-member Parliament must have a two-thirds quorum. During a parliamentary session on April 23, no candidate succeeded in getting the minimum 86 votes, or a two-thirds majority, needed to win the presidency. The next session to elect a president will be held on April 30.
May 25: President, Colombia
President Juan Manuel Santos remains the front runner in Colombia's upcoming presidential poll, but waning faith in the national peace process and renewed rural protests could threaten his chances. Although he is still in the lead, Mr. Santos' approval rating has plummeted in the past few months, according to recent polls. One reason for this is the public's frustration with a lack of progress in peace talks with FARC rebels, but also because farmers have staged renewed protests, among other factors. Meanwhile, competitors Oscar Ivan Zuluaga, who is backed by ex-President Uribe, and former Mayor of Bogota Enrique Peñelosa are both gaining traction.
May 26: President, Egypt
Egypt will hold a presidential election on May 26 and 27. The election commission announced that only two candidates have qualified to contest the election, precluding the possibility of a run-off. The two candidates are former army chief Field Marshal Abdel Fattah El-Sisi and leftist politician Hamdeen Sabahi (who came in third during Egypt's last presidential election.) The commission has granted approval to six international organizations to monitor the elections as well as 79 domestic ones. This will be the first presidential election since the overthrow of Muslim Brotherhood President Mohamed Morsi in July 2013.
May 28: President (Expatriates), Syria
The presidential election in Syria, slated for June 3, has been criticized for as "parody of democracy," according to the BBC. A recently passed law stipulates that candidates need to have lived within Syria for the last ten years, which effectively assures Bashar Assad's election as most opposition leaders have fled the country. UN Secretary-General Ban Ki-moon has warned that the election may seriously impede any chance for furthering a political resolution to the bloody civil war that has claimed some 150,000 lives in three years. On May 28, the millions of refugees who fled Syria are theoretically able to cast their ballots at embassies, but many have closed down.
Also of Interest:

• May 4: President and National Assembly, Panama

• May 22: European Parliament, EU

• May 25: Chamber of Representatives, Belgium
Additional Meetings
May 5-7: OECD Forum, Paris
Representatives from member states, civil society, and academia gather for the 2014 OECD Forum, entitled "Resilient Economies for inclusive Societies." The meeting in Paris is organized around three themes: inclusive growth, jobs, and trust.
May 7-9: World Economic Forum on Africa, Abuja
For the World Economic Forum on Africa, hundreds of delegates assemble in Nigeria, which has emerged as the continent's biggest economy, having recently surpassed South Africa. Maintaining Africa's impressive 5-percent growth while increasing the inclusivity of those gains is a recurring thread in the summit's agenda.
May 10: ASEAN Summit, Naypyidaw
Myanmar takes the rotating ASEAN chairmanship this year for the first time since joining the Southeast Asian cooperation organization in 1997. The 24th ASEAN regional summit comes shortly after reports of massacres of Muslim minority groups by radical Buddhists, as well as attacks on foreign aid agencies. US officials said the international community will be watching Myanmar, which transitioned to democracy in 2011 after decades of military dictatorship.
May 21: World Economic Forum on East Asia, Manila
Although all 10 economies that make up the ASEAN region expect healthy progress in 2014, none surpasses the projections for the Philippines at over 6.5 percent GDP growth. In this context—and with the devastation caused by Typhoon Haiyan still visible—the 23rd World Economic Forum on East Asia's agenda focuses on "decision-making in the face of unpredictable economic and natural disruptions," according to ASEAN's website.