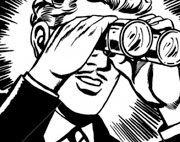 At the start of every month, the Global Observatory posts a list of key upcoming meetings and events that have implications for global affairs.
Peace & Security
March 5: NATO, Russia Hold Talks over Ukraine
An extraordinary meeting between NATO and Russia will discuss Russia's intervention in Crimea. The US-European military alliance has declared Russia's actions a violation of Ukraine's sovereignty and considers the developments in Ukraine a threat to neighboring allied countries, with implications for security and stability in the Euro-Atlantic area. Russia has defended its actions on humanitarian grounds and says that it reserves the right to protect its citizens in eastern Ukraine. While the US and Europe appear divided over whether to impose sanctions on Russia, and Security Council action remains handicapped by Russia's permanent seat, some hope the NATO meeting could provide a forum for a joint diplomatic effort with the former Cold War foe.
March 15: 3rd Anniversary of Civil War in Syria
The uprising against the Assad government reaches the third-year mark with over 100,000 dead and more than 2.4 million displaced outside Syria's borders. A week after this tragic anniversary, around March 22, United Nations Secretary-General Ban Ki-moon releases the first report on humanitarian access in Syria, following the adoption last month of resolution 2139. The UN Security Council measure, aimed to increase humanitarian assistance, calls on "all parties to immediately cease attacks on civilians and lift the siege of populated areas."
March 17: Iran Nuclear Deal Talks Resume, Vienna
In February, six world powers and Iran started negotiations towards a final settlement on Tehran's nuclear program. They outlined an agenda for further talks, hoping to reach an agreement by July 2014. Negotiations will be very complex and will likely take longer than six months. Although the agreed agenda is not public, likely items on the table include: 1) the termination of the construction of the new heavy-water reactor in Arak ; 2) the reduction of the current capacity of other nuclear facilities; 3) the reduction of the number of centrifuges in Iran, in particular the new generation ones, which can enrich uranium from civilian to military-grade faster; and 4) the dilusion or transformation of the existing stockpile already enriched close to military-use level.
March 17: UN Considers Report on North Korea, New York
UN Human Rights Council considers a Commission of Inquiry report on crimes against humanity in North Korea. The report's findings, released February 16, detail crimes including mass starvation, torture, enslavement, rape, and forced abortion, among other crimes. The report suggests the Security Council refer North Korea and its leader Kim Jong-un to the International Criminal Court. However, it's widely believed that China, North Korea's biggest ally, would block any such Security Council action against North Korea.
March 24: Nuclear Security Summit, The Hague
Launched by President Obama in 2010, the Nuclear Security Summit (NSS) aims to foster cooperation among its 57 member states to, among other nonproliferation goals, secure all nuclear material by 2014. Chief among the agenda items in the third of this biennial meeting are specific steps to curb Iran's uranium enrichment programs and how to address the issue of hard-to-reach spent fuel rods at the Fukushima-Daiichi nuclear plant. March 11 marks the third anniversary of the Fukushima plant meltdown, triggered by a tsunami.
End of March: Most Lethal Chemical Weapons Leave Syria
The Syrian government is set to dispose the most dangerous elements of its chemical weapons stockpile by the end of March. President Assad's administration missed two deadlines—December 31 and March 1—for this benchmark, as well as a February 5 deadline to give up its entire cache. Delays are due to security problems, according to Damascus, but the administration says it intends to meet the June 30 cutoff date to completely eliminate its chemical weapons program. However, the Assad government's new 100-day plan may not leave enough time to meet the mid-year goal.
Also of Interest:
March 6: Friends of Libya Conference, Rome
March 8: The Trial of Former Egyptian President Hosni Mubarak Resumes
March 11: Pakistan's Special Court Indicts Former Leader Pervez Musharraf for Treason, Islamabad
March 11: EU Political and Security Committee Meeting, Brussels
March 12: Canada Ends 13-Year Military Mission in Afghanistan, Kabul
March 13: New International Peace Monitors arrive in Southern Philippines to oversee the ongoing ceasefire between the government and the Moro Islamic Liberation Front (MILF)
Elections and Votes
March 9: Senate and House of Representatives, Colombia
During these elections, President Juan Manuel Santos, who is up for re-election May 25, is trying to consolidate support in the senate for ongoing peace talks with FARC-EP. This issue is expected to be the main battleground of congress and presidential campaigns in 2014. Former President Álvaro Uribe, a vehement opponent of the peace process with the leftist rebel group, is running for a senate seat. Having already served two terms, Uribe is barred from running in the presidential race.
March 9: Parliamentary, North Korea
The first parliamentary elections since leader Kim Jong-un came to power takes place mid-March. The Supreme People's Assembly elections come three months after Kim had his uncle and another top official executed on treason charges. South Korean analysts argue Kim will use the polls to replace older legislators with younger ones loyal to him. The poll—believed to be a mere formality because the ruling Worker's Party pre-selects the winners—comes amid new allegations of severe human rights abuses in the world's most isolated nation.
March 9: Presidential, El Salvador
Vice President Salvador Sánchez Cerén easily won the first round of presidential elections but not enough to avoid the runoff. The economy and crime are the focal points of the Salvadoran race. Sanchez's party, FMLN, a leftist rebel group turned political party, backs the controversial and increasingly fragile gang truce aimed to ease decades of violence throughout the country. Sanchez's platform includes extending welfare programs and incentives for energy development that current FMLN President Funes began. As the main contender, conservative Norman Quijano's platform largely hinges on plans to combat the gang fighting, including invoking presidential powers to use the military and implementing a draft for 18-30 year olds who don't work or study.
March 16: Presidential, Slovakia
The ruling Smer party's candidate, outgoing Prime Minister Robert Fico, is widely supported and believed to likely win the presidential race. However, a recent poll shows preference for independent Andrej Kiska, a successful entrepreneur and philanthropist. If no party attains a simple majority on March 16, a runoff election will be held on March 29.
March 16: Parliamentary, Serbia
President Tomislav Nikolic called early parliamentary elections after the dominant center-right SNS party stated it needed a stronger mandate to pass reforms. Shy of halfway through the four-year term, the national assembly-people back to the campaign trail. Many Serbians hope a new government will pave the way for entry into the European Union. However, although the Balkan country began talks with the EU in January 2014, it is unlikely Serbia will join before 2020.
March 22: Parliamentary, Maldives
Leading up to the polls, the Maldivian Supreme Court charged the four members of the Electoral Commission with contempt, claiming that the EC criticized a verdict which annulled first round presidential elections in September 2013. The charge could include jail time and prohibit the EC's ability to oversee upcoming parliamentary elections. Former President Mohamed Nasheed has said without the EC, the likelihood of fraud is very high. The Supreme Court has previously brought civil and criminal charges against lawyers, politicians, and businessmen for criticizing the judiciary.
Also of Interest:
March 11: President-elect Michelle Bachelet Takes Office, Chile
Additional Meetings
March 3: Prime Minister Netanyahu Visits the White House, Washington DC
President Obama hosts his Israeli counterpart amid diplomatic tensions between these allies. For months, Benjamin Netanyahu has openly criticized US-led efforts to curb Iran's nuclear program. The two leaders meet to discuss the Iran nuclear deal, Israel-Palestine peace efforts—US Secretary of State John Kerry has attempted to broker a deal for several months—and other regional issues.
March 5:  Intergovernmental Meeting for Growth in Southern Africa, Livingston, Zambia 
The 20th session of the Intergovernmental Committee of Experts (ICE) for southern Africa takes place in Zambia's tourist capital. The ICE theme is "making natural resources work for inclusive growth and sustainable development."
March 25: Arab League Summit, Kuwait City
The situation in Lebanon tops the agenda of the 25th Arab League Summit, held in Kuwait. Arab League Secretary-General Nabil Al-Araby said the league will suggest a new Arab humanitarian mechanism at the meeting, tailored to address crises in the Middle East and elsewhere. The humanitarian crisis in Lebanon, where some 900,000 Syrian refugees now reside, will also be discussed earlier in the month at the Arab League Foreign Ministers Council meeting in Cairo and at a meeting for the International Support Group for Lebanon in Paris, both on March 5th.
Also of Interest:
March 3: Meeting for Intergovernmental Committee of Experts on Sustainable Development, New York
March 10: Food and Agriculture Organization Meeting on Asia Pacific, Ulaanbaatar, Mongolia
March 25: African Union-UN Economic Commission for Africa Meetings, Abuja, Nigeria