The International Peace Institute (IPI), which publishes The Global Observatory, produced research, analysis, and interviews on a range of topics in peace and security last year. Below is a list of IPI's most popular content items in 2013.
1. The Elephant in the Room: How Can Peace Operations Deal with Organized Crime?
From Afghanistan to Kosovo to Mali, organized crime is threatening peace and security. Yet, this report argues, peace operations usually treat organized crime like the elephant in the room: impossible to overlook, but too big to deal with. Why is this so? And what can be done to rectify the situation—particularly if senior officials are themselves complicit? Authors Walter Kemp, Mark Shaw, and Arthur Boutellis explain.
2. New Technology and the Prevention of Violence and Conflict
In an era of unprecedented connectivity, this collection of case studies explores the ways that cell phones, social media, crowdsourcing, crisis mapping, blogging, and big data are being used to prevent violence and conflict around the world. The volume's editor Francesco Mancini and co-author Marie O'Reilly outline a how-to guide for leveraging new technology in conflict-prevention efforts.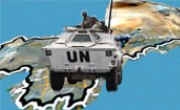 3. Mali's Peacekeeping Mission: Full-Fledged Behemoth, or Have Lessons Been Learned?
In March 2013, the UN appeared poised to launch a new UN peacekeeping mission in Mali. But would lessons from past peacekeeping experiences on the continent inform the new operation? In this Global Observatory post, Arthur Boutellis offered five concrete suggestions for the mission's mandate and format to avoid the pitfalls encountered elsewhere.
4. Cross-border Humanitarian Aid in Syria Has Legal Basis But Few Precedents
Humanitarian organizations normally need a state's permission to deliver aid in its territory. In Syria, this poses serious problems for getting aid to civilians in rebel-held areas. Amid intensive debate among humanitarians about how the challenge should be tackled, this post by Jérémie Labbé and Tilman Rodenhauser explores the legality and legitimacy of delivering aid without the Syrian government's consent.
5. Interview with Coordinator of UN Group of Experts on the DRC
A UN group of experts reported "overwhelming evidence" that Rwanda and Uganda were supporting the M23 rebel group in neighboring Democratic Republic of the Congo (DRC) in late 2012. In January 2013, Francesco Mancini interviewed Steve Hege, who had just stood down as the group's coordinator, to find out more.
6. The UN Intervention Brigade in the Democratic Republic of the Congo
After fourteen years of peacekeeping in the DRC, the UN is deploying a new kind of "offensive" combat force—the Intervention Brigade—to break the cycles of violence by neutralizing and disarming rebel groups. In this issue brief, Maj. Gen. Patrick Cammaert and Fiona Blyth explore the risks and challenges raised by this new initiative.
7. Peace, Justice, and Reconciliation in Africa
Ending impunity and promoting justice and reconciliation reflect core objectives underpinning the African Union. Amid renewed debate about justice and peace on the African continent, this report by the AU Panel of the Wise investigates the issue of impunity and its relationship with peace, justice, reconciliation, and healing.
8. Responding to Genocide: The Politics of International Action
As mass atrocities continue to be committed in Syria with little consensus on what should be done, this timely book explores tools and tactics for combating genocidal violence and mass atrocity crimes. Expert contributors examine the different roles that the UN Security Council, regional organizations, mediators, and transnational civil society groups can play, while co-editors Adam Lupel and Ernesto Verdeja offer a guide to developing the political will to respond.
9. Regionalism and Regionalization in the Middle East: Options and Challenges
Could the changing political environment in the Middle East provide new opportunities for regional cooperation to address the demands for democracy, social justice, and jobs? In this report, Matteo Legrenzi analyzes the political, economic, and security challenges regional organizations face in the Middle East and explores new incentives following the Arab Spring that could lead to greater regional cooperation in the future.
10. Trends in Uniformed Contributions to UN Peacekeeping: A New Dataset, 1991–2012
The new IPI Peacekeeping Database makes the full range of available data on uniformed contributions to UN peacekeeping readily accessible to researchers for the first time. In this report—the third in IPI's Providing for Peacekeeping project—Chris Perry and Adam Smith introduce the database, identify key trends in contributions to UN peacekeeping over the past two decades, and suggest opportunities for further research using this online dataset.