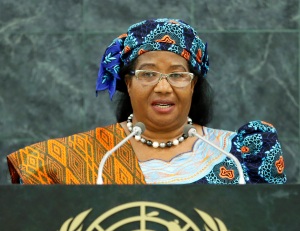 Malawian President Joyce Banda dissolved her cabinet last Thursday, following a demonstration in the capital. "Joyce Banda has failed to govern this country"; "Mphwiyo should explain the looting"; "Top government officials should resign to pave way for investigations," the marchers' placards proclaimed. A new cabinet was appointed on Tuesday.
The protest and dissolution of the cabinet followed revelations of a corruption scandal, starting in late September, about cash being stolen from government. To give some background, Malawi uses an Integrated Financial Management Information System (IFMIS) payment platform, and it is alleged that through this platform, government accountants had been making fraudulent payments and stockpiling cash in their homes and vehicles. New reports suggest there is collusion between civil servants with access to funds and politicians. The scandal is referred to as "Cashgate," and has been widely reported on in Malawi in the past few weeks.
Prior to arrests associated with the Cashgate scandal, Malawi's Budget Director Paul Mphwiyo was shot on September 13, after having received numerous death threats in connection with his cracking down on fraudulent government contracts and embezzlement loopholes. Mphwiyo was only appointed budget director in July of this year.
Much of these developments surrounding the Cashgate scandal unfolded during President Joyce Banda's 23-day trip out of the country, partly spent at the UN General Assembly meeting. During her absence, news and rumors circulated that the corruption of the Cashgate scandal reached high up into the administration, and there were reports that President Banda had known about the embezzling as early as five months ago. A major opponent for President Banda in the upcoming May 2014 tripartite elections, MCP Presidential Candidate Lazarus Chakwera, publicly called for her to cut her trip short and return to Malawi to deal with the Cashgate saga. The civil society leader who organized Thursday's demonstration had also previously called for the President to return home early, and even went so far as to call for her resignation.
There was pressure from donors to do something about the Cashgate scandal as early as the days following the shooting of Budget Director Mphwiyo. In a jointly released statement, major donors—including the British High Commission and the US Embassy—expressed great concern about the shooting and the events surrounding it.
"These are worrying developments that potentially risk Malawi's stability, rule of law and reputation," the donors said. "We urge swift and credible investigations that leave no stone unturned, allowing the investigating authorities to act without fear, intimidation or hindrance. Should the Malawi authorities require international assistance to their investigations into this and other cases, we are willing to respond."
The donors encouraged "those prepared within government and in state institutions to act against corruption, building on the recently announced measures to strengthen accounting systems and controlling measures," and advocated for "a strong coalition with others in Malawi society to ensure success."
The European Union is set to release $39 million in budget support to Malawi in December, but it informed the government that it would not release the funds before these budget concerns were dealt with. The German ambassador also warned his country was closely following events to determine future support.
In sum, it is not at all surprising that President Banda dissolved the cabinet. There was pressure from donors, civil society, and ordinary Malawians—all while her political opponents have been using the scandal to demonstrate her weakness in governing the country in the run-up to the elections. If the EU payment does not come through in December (the start of Malawi's hunger season), Banda stands no chance of winning the elections in May 2014.
The question is, where does she go from here? Malawian academic Boniface Dulani had already pointed out Banda's original cabinet was largely a recycling of ministers from previous administrations. Though sacking her cabinet is one step in the right direction, it will certainly not be sufficient to appease civil society, donors, or ordinary Malawians. She will have to make haste in resolving the Cashgate scandal, especially if she expects to stay in office come May.
Kim Yi Dionne is Assistant Professor of Government at Smith College in Massachusetts. A version of this article was first published on her blog, haba na haba.
About the photo: President of Malawi addresses UN General Assembly. September 24, 2013. (UN Photo/Paulo Filgueiras)