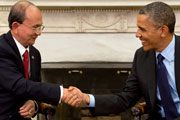 The meeting yesterday between presidents Barack Obama and Thein Sein may have been more symbolic than substantive, but it is an important step towards a normal relationship for the United States and Myanmar. It will deepen the engagement of the two countries and move them closer to the broader partnership they want as the transition in the country Washington still calls Burma faces some grave internal challenges.
When Thein Sein took office at the end of March 2011, his inaugural address outlining an ambitious reform agenda was received with scepticism in the United States. But as he brought Nobel laureate Aung San Suu Kyi over to his side, this tone began to change. The April 2012 by-elections saw the National League of Democracy enter Parliament as the largest non-government party. This was the single most important event that led to the reset button being hit on this bilateral relationship. Within the space of about a year, this formerly pariah nation had a new US ambassador and a visit from Secretary of State Hillary Clinton, and President Obama stopped by to deliver a landmark speech in Yangon. Decades-long sanctions were suspended.
What comes next? For a partnership to eventuate, the US will have to stand by Myanmar as it takes steps forwards–and back–for years to come. It will not always be smiles with the band playing anthems. In the last twelve months, we have seen new political freedoms let loose old hatreds in waves of anti-Muslim violence. This showed there is still much to do to transform this country into the tolerant one of Thein Sein's televised speeches.
Key Conclusions
Three interconnected and difficult issues need attention for the country to move forward—citizenship for the Rohingya; building capacity in the police to prevent violence against Muslims; and re-envisioning the country as one that is multi-ethnic, multilingual, and multi-religious.

The transition from authoritarian rule to democracy could take decades. Key waypoints are the 2015 elections, implementing constitutional reforms, and the achievement of true civilian leadership.

The US should engage on a broad range of issues and stop using sanctions as a diplomatic tool. An enduring partnership would involve sustained support for the transition across the spectrum of political interests, and transitional development assistance would expand to include programs for education, health, and the media.
Analysis
The quick fix to stop violence is a home-grown one. Put simply, President Thein Sein's strong word needs to be met with firm but not repressive action by local authorities. Violent extremism needs to be punished by the law, whoever commits it.
Beyond this, there are three areas that deserve special attention as Myanmar tries to resolve the underlying ethnic and religious tensions that could threaten its transition. It needs more encouragement and not threats from international policymakers, and where possible, offers of practical help to succeed.
First, the issue of citizenship for the Rohingya needs to be resolved. It will not be easy. Most Rohingya would qualify for citizenship—even under the present restrictive 1982 law—but are denied it through administrative discrimination, restrictions on freedom of movement, and most importantly because they often do not have the paperwork needed to prove their citizenship. Thein Sein has committed to addressing this issue, which was also a key recommendation of the Rakhine Investigation Commission that he established and that released its report in April.
There is a methodology for issuing citizenship cards without documentation, which is being used in the East of the country with populations in conflict-affected areas. It involves using a religious or local authority to vouch for a family, along with one other family. The government seems to be ready to extend such a program to the Rohingya, but it is highly sensitive among the Buddhist population in Rakhine State.>
While the president and government have been rightly criticised for not doing enough to address the Rohingya issue, their position is far ahead of that of the local population and national sentiment. President Obama should encourage Thein Sein to resolve this with greater speed while continuing practical assistance to relieve the suffering and aid the return of those displaced by the violence. But pushing too far and too fast on this complicated issue might not only be a political problem for the Myanmar reformists; if done with too much haste it could trigger a violent backlash against the Rohingya population.
Secondly, the plight of Muslims more generally is linked to but different from the plight of the Rohingya. Outside of Northern Rakhine State, where the Rohingya are mostly found, Myanmar's Muslim population is highly integrated, culturally and linguistically. The majority have citizenship papers, or could get them. But there is clearly a rising Buddhist Burman nationalism in some segments of society that is specifically targeting Muslims. Some monks are active in both regions in pushing an extremist agenda and carrying out violent attacks. But while there is evidence of local security forces colluding with local elites to attack Rohingya, the violence against Muslims in the heartland, such as the attacks in March in Mandalay, also highlight the inadequate capacity of the police in dealing with such unrest. They need better equipment, training, and supervision as well as an understanding of their role in a democracy.
Finally, the place of minorities and policy towards ethnic armed conflict need their own initiatives. The intercommunal violence is more worrying than the old ethnic conflicts, as in the older insurgencies there is a little-contested path to resolving them. While no one in Myanmar thinks the ethnic peoples should not be part of Myanmar, there is no clear path to resolving the Rohingya issue, and since 2011 their treatment has dramatically worsened. Solving all its ethnic conflicts requires Myanmar to view itself in a new light: as a multi-ethnic, multi-lingual, multi-religious country. Its people need to see this diversity as a strength and learn to be comfortable with it. This would be a departure from the past and the narrow conception of Myanmar as a Burman-Buddhist nation, and it is a vision incompatible with the extremism driving the anti-Muslim violence.
What can the US do? It can stay engaged on a broad range of issues. It can continue to support the peace process, especially as the government seeks an elusive ceasefire with the Kachin armed groups. With China now involved, this requires deft diplomacy rather than public lecturing. Police reform, which the US can help with, is a key part of resolving violence against Muslims. Continued humanitarian support in Rakhine State is vital, as is access to the internally displaced wherever they are. An enduring partnership would involve sustained support for the transition across the spectrum of political interests, and transitional development assistance would expand to include programs for education, health, and the media. Sanctions have passed their use-by date. It is time for conditionality to give way to normality in the US-Myanmar relationship.
Jim Della-Giacoma is the Asia Program Director of the (International Crisis Group.
About the photo: President Barack Obama shakes hands with Myanmar's President Thein Sein at the end of their meeting in the Oval Office of the White House in Washington, Monday, May 20, 2013. Thein Sein is the first Myanmar president to be welcomed to the White House in almost 47 years. (AP Photo/Jacquelyn Martin)