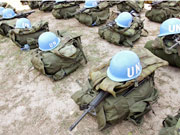 Last month, the UN Security Council authorized the deployment of 12,640 uniformed personnel to serve in its new peacekeeping mission in Mali. Finding the right mix of military and police capabilities to implement ambitious peacekeeping mandates is never easy. Given the unique operational challenges that the UN force in Mali will face, as well as the political pressures inherent in UN force generation, getting this mix right could prove impossible.
The Council has asked the UN Secretariat to incorporate those African Union troops already on the ground that are "appropriate to UN standards" into the new UN force for Mali. The UN will have to balance this wish with the interests of the UN's largest troop contributors who may also push for inclusion in the mission. Most importantly, the UN will have to cobble together the actual capabilities that are needed for such a challenging mission. Air assets (transport and attack), horizontal engineering, intelligence analysis, francophone language skills, familiarity operating in desert terrain, and a high tolerance for risk are just some of the capabilities that are needed, yet will surely be in short supply.
Of course, similar headaches occur with every force generation effort. The massive undertaking of generating force from 116 countries for all UN missions, combined with the urgency of deploying every new mission quickly, has limited the ability of the UN to look ahead, plan, and engage member states in the mid- to long-term needs of UN peacekeeping. As a result, force generation is ad hoc and reactive. There is no strategy for force generation; little detailed understanding of what capabilities member states have to offer; and a lack of engagement with member states to improve the capabilities currently offered, or to find those critical capabilities that are always in short supply. If the UN had been doing this for the past five years, generating the right mix of capabilities for Mali might be possible.
The International Peace Institute's latest report analyzes the inherent contradictions–technical vs. political, short-term operational vs. mid-term strategic–in generating forces for UN peacekeeping operations. Based on an evaluation of the UN's force generation system, we argue that, in spite of the urgent challenges of today, the system must also focus on the important task of strategically planning for tomorrow. The report proposes a set of reforms to address the most critical force generation issues: those related to strategic planning and outreach, incentives, and mechanisms for greater accountability.
Analysis
Last month, the UN had 92,407 uniformed personnel from 116 different countries serving in 16 different missions around the world (see full list). Getting the personnel and equipment for those missions is not easy. UN missions are often located in unfamiliar and unforgiving environments far away from the countries that contribute the soldiers, police, and related equipment. The missions can be dangerous, and the operational objectives unclear. Military equipment and specialized capabilities that are critical to a UN mission–helicopters, for example–are often badly needed at home, too.
Each mission has unique operational requirements and therefore a different composition of capabilities to be generated, both in terms of personnel (from infantry to engineering to medical units) and equipment (from helicopters to dump trucks to hospital beds). All countries offer different capabilities that have to be matched correctly to the situation. This process, of course, must also happen as quickly as possible. Few countries can get on the ground in short order. Some are able to deploy rapidly but must wait months for internal government decision-making processes or approval from their Parliament. Others can decide quickly but require time to procure equipment and assistance to deploy.
On top of this logistical puzzle, one must also consider the tricky politics of force generation. For various reasons, certain countries only want to contribute "here." For other reasons, certain countries should never be asked to contribute "there." Some armies depend financially on their reimbursements for their contributions, and others see prestige or other political gain accruing from their contributions. Decisions on who contributes and who does not are therefore more than just technical ones. Add to it the complex political considerations of 116 contributors (and don't forget the host nation), and you start to understand the impossible task the UN's Office of Military Affairs and its Police Division face to generate the right mix of necessary capabilities quickly while satisfying all related political considerations.
Last month, the UN Security Council voted to authorize its newest mission: the United Nations Multidimensional Integrated Stabilization Mission in Mali (MINUSMA). Reading Security Council Resolution 2100 (2013) closely, you can glimpse hints of the force generation conundrums. First off, the Council asks the secretary-general to include current contributors of the AU force in Mali (AFISMA) into the new UN mission, but only those that are "appropriate to United Nations standards" should be included. Force generation does not start with a blank slate. Some countries are already penciled in to contribute. Deciding who from AFISMA meets "United Nations standards" and who do not is presumably just as much a political question as it is a technical one. Yet, even on the technical side, it is not a straightforward decision. The UN developed standards for infantry battalions last year, but have not done so yet for any other units. And even when standards are developed across the board, the UN does not yet have a system of assessment to determine whether a troop-contributing country (TCC) meets those standards.
Secondly, the Council decided that the new mission will include "reserve battalions capable of deploying rapidly within the country as and when required." Unfortunately, among member states, the capability to rapidly transport a battalion of troops and equipment is in short supply. In South Sudan, for instance, despite the UN's need for such rapid mobility (where fewer than 5,000 infantry are charged with protecting a dispersed population in a country the size of France) the mission has only one Mi-26 heavy transport helicopter. A related supply shortage concerns finding member states that are willing to allow their units to be stretched thin and rapidly deployed to fight hot spots at a moment's notice. This can cause more wear on equipment and also implies a level of risk for which TCCs are not given additional compensation.
The resolution authorizing MINUSMA exposes only a few of the technical and political hurdles involved in standing up a new peacekeeping mission. But while the process of force generation happens largely behind the curtains, its results will be quite visible on the ground in Mali. With a planned July 1st start to the mission, the world will soon see if the UN has been able to generate the right capabilities to support the ambitious mandate it has been handed.
In all likelihood, the immediate results in Mali will expose a system of force generation that is ill-fitted for the current size of peacekeeping operations, the need for rapid deployment, the range of capabilities that contemporary operations require, and the political and technical complexity inherent in planning and decision making around force generation. Looking deeper would also show a system that is overly politicized. (This system includes the Secretariat, TCC/PCCs, and the Security Council, who all play a role).
IPI's recent study, "Rethinking Force Generation: Filling Capability Gaps in UN Peacekeeping," identifies constraints to the UN force generation system in five areas: planning, communication, TCC/PCC selection, knowledge management, and performance/incentives. We explain how the process could be refined through increased transparency and institutionalized decision making. We suggest that the Secretariat work to transform the vision of capability-driven peacekeeping into a forward-looking outreach strategy to capitals on force generation. Member states must play an integral role as well, through political and financial support, as well as engagement with the Secretariat on the development of standards and a system of incentives for filling critical capability gaps.
Adam C. Smith is a Research Fellow and the Manager of Peace Operations Program at the International Peace Institute.
About the photo: Blue helmets in Bubanza, Burundi, 2004. Credit: UN Photo/Martine Perret