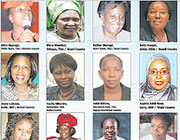 While Kenya's disputed presidential race continues to take center stage, another race could radically transform politics at the local level: the election of women's representatives in each of the 47 newly created counties across Kenya. As a result of constitutional provisions, more women will be represented in Kenya's Parliament than ever before, a step forward for representative equality in a traditionally patriarchal society where political engagement is dominated by men. In one instance, 155 women declared their candidacy for one of the women's representative positions. Among candidates for 290 parliamentary seats and 19 senate seats, 165 were women.
The March 4th elections—which, along with the president and women's representative races, included senate, Parliament, and governor elections—was a test, not just of ethnic fault lines still roiling from the 2007 electoral violence, but of the new constitution adopted in 2010. They tested the strength of the reforms adopted since 2007, and the logistics and complexities of holding ballots for six elections across the nation on a single day. And as Raila Odinga challenges Uhuru Kenyatta's narrow victory for president, the winners and losers of the electoral process are still being tallied.
Key Conclusions

Kenya's 2010 constitution has set the conditions for greater female electoral representation, but changes remain before this can be fully realized. These challenges include overcoming traditional attitudes of prejudice against female political engagement, voter registration, and education restrictions on candidature.
Progress on women's representation in other countries such as Rwanda, Senegal, South Africa, and Mozambique signal changes throughout the continent that could bode well for Kenya, though women candidates may be hampered by Kenya's ethnic divisions and financing as much as gender politics.
The recent elections will ensure that more women than ever before are represented; however, efforts to include female voices at a national level must continue if Kenya is to achieve a true gender balance among its elected representatives.
Analysis
Kenya's new constitution, ratified in August 2010, stipulates that no more than two-thirds of any appointed or elected body can be of the same gender, and, in an attempt to ensure further gender balance, included a provision stating that each of Kenya's 47 counties elect a women's representative. This was part of a landmark push in the constitution to allow for women's rights, and also included language prohibiting all forms of discrimination against women, making additional provisions for women's land rights and property rights, including after divorce.
Women's political platforms have embraced these reforms as demonstrated by a two-day National Women Leadership Platform for Action 2012 organized by the Women's Empowerment Link (WEL) that was held in January and attended by over 1,000 women. The event reiterated the need for women to be aware of these new opportunities, and encouraged women to campaign on issues rather than perpetuate the ethnic-based approach of previous elections that is still a significant hurdle for both male and female candidates.
Despite this engagement, challenges to implementing the constitution's aim of equal gender representation remain. Some men have argued that women already have special seats reserved for them through the constitutional quota and as women's representatives, and should not contest any other posts. In addition, women still fall behind in voter registration within rural communities antagonistic to female public engagement in politics on traditional, ethnic, and religious grounds.
Another critical issue is the requirement for a higher education in order to qualify as a candidate.  To be elected president or governor, a candidate must "have a degree from a recognized university in Kenya"  while to stand as a member of the National Assembly, senator or women's representative, a candidate must hold "a diploma, certificate or post-secondary education requiring at least three months study, and is recognized by the relevant ministry and in a manner prescribed by IEBC." This requirement for formal education is a stumbling block that excludes women from uneducated, poor background from standing, however articulate and cognizant they are of the issues at stake.
In terms of national political engagement, however, Kenya can draw lessons from countries such as Rwanda in which 56 percent of the parliamentary seats are held by women. This has had positive policy implications for issues affecting women, children and families in particular in health, education and female economic empowerment. Other continental leaders include Senegal and South African, both with 42 percent of seats held by women, and Mozambique, in which 39 percent are female elected representatives.  This contrasts with 22.5 percent in the United Kingdom and 24 percent in Canada.
In gender-neutral electoral positions in Kenya, it remains to be seen if women are able to win more seats than the 2007 election where women secured 22 parliamentary seats out of 224 (less than 10 percent).  To date, numbers released from the Independent Electoral and Boundaries Commission (IEBC) show female candidates have secured 16 parliamentary seats without winning any gubernatorial or senatorial positions, although the results of only 92 seats have been released.
Nevertheless, strong female leadership is not new to Kenya, a country which has recognized and listened to female voices in electoral politics, including Wangari Maathai, political activist and environmentalist who was elected to Kenya's parliament in 2002 and lobbied internationally for democracy, human rights, and environmental issues. She gained public support and international acclaim for her courageous battles against Daniel Moi and the monopoly of male power.
Martha Karua was shown similar public support when she ran as a parliamentary candidate in the recent March 4th election. Ms. Karua's campaign established her as a tough, anti-corruption candidate and was widely admired for her trustworthy platform. While achieving 43,881 votes, she was impeded not by her gender but by her lack of strong ethnic links, demonstrating Kenya is ready for female representation but is hampered by ethnic, not gender politics. The prospects for future female leadership in Kenya are therefore good but the challenges that face women candidates are the same as those faced by men, namely ethnic divisions and financing.
E.J. Hogendoorn, deputy director of the International Crisis Group's Africa program, emphasized in a recent discussion on the Kenyan elections that the constitution and its implementation is in its early stages. While the peaceful voting on March 4th is a success for the reforms, the elections are just the beginning. As is expected, it will take time for the constitution's provisions to be fully realized. Regardless of the numbers, the creation of women's representatives and the slow move towards a gender balance should be considered a win for Kenya. The ultimate victor for the presidency should recognize and celebrate this win, and ensure the work continues towards a truly representative legislature.
Fiona Blyth is a Research Assistant with the Africa Program at the International Peace Institute.
About the photo: Kenyan women candidates, 2013. Image credit: The Standard