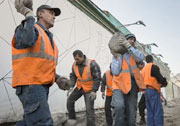 Central Asian migrants are a crucial source of labor in Russia, yet stories of racially-motivated violence and discrimination are pervasive.
Human Rights Watch released a report on February 6 detailing labor rights violations and ill treatment of migrant workers preparing for next year's Winter Olympics in Sochi, Russia. Central Asian migrants numbering in the tens of thousands are constructing Olympic sites in the Black Sea resort city while living in cramped, temporary accommodation and lacking adequate pay.
On February 12, the UN Committee on the Elimination of Racial Discrimination (CERD) held an interactive dialogue with Russian NGOs, who emphasized discrimination and violence against migrant workers from Central Asia. Several Russian NGOs submitted an alternative report to the committee, documenting the alarming number of racist and neo-Nazi violent attacks over the last decade. Between 2004 and 2012, 556 people were murdered in far-right attacks in Russia, and an additional 3,507 people were beaten or wounded; 220 of those killed and 568 of those beaten or wounded were Central Asian migrants. These numbers reveal a frightening socio-political climate in Russia, particularly for migrants from the former Soviet republics.
Key Conclusions
The continued poverty and political instability of Central Asia fuels increasing labor migration to Russia, despite widespread discrimination and brutal attacks on migrants.
President Vladimir Putin promised to crack down on undocumented migrants and ramp up immigration controls. However, the safety of migrant laborers remains an open question, and the rhetoric ignores the dependency of Russia's economy on as many as twelve million migrant workers, most of whom are Central Asian.
Russia's new requirement that all labor migrants in the service sector pass a Russian language test leaves the fate of millions of workers uncertain, with potential grave effects for Russia's economy and the Central Asian citizens who rely on remittances.
These tensions reflect the changing relationships between Russia and the former Soviet republics of Central Asia. Both sides seek to lessen past ties and maintain distinct national identities, but the realities of vast migration and economic dependency complicate these political objectives.
Analysis
Russia's economy depends upon an estimated ten to twelve million migrant laborers, most hailing from post-Soviet nations like Uzbekistan, Tajikistan, and Kyrgyzstan. Only two million are in Russia legally, with work and residency permits, while the remainder live under vulnerable conditions without civil or labor protections.
Migration to Russia from Central Asia has been growing for twenty years. While some migrants in the 1990s fled civil wars, the critical driving force of migration was, and remains, the dire economic situations in their home countries. In Kyrgyzstan, where poverty is increasing by three percent each year, thirty percent of the population now works abroad. According to the World Bank, their remittances equal thirty percent of Kyrgyzstan's GDP. Many work as seasonal laborers in Russia. Russia's Federal Migration Service estimates that nine million foreigners came to Russia to work in 2011 alone. About two million arrived from Uzbekistan, one million from Tajikistan, and more than 500,000 from Kyrgyzstan, making Central Asian migrants more than a third of the total labor immigration to Russia. Hundreds of thousands of Central Asians who have already acquired Russian passports are not included in these numbers.
This vast migration impacts Russia's ethnic and religious demographics; Muslims from Central Asia are the fastest growing sector of the population in Moscow. Russia's Muslim population now exceeds twenty million, up from fourteen million in 2000. At this rate, Muslims are expected to account for almost twenty percent of Russia's population by 2030.
The current political climate makes life hard for foreigners. An independent poll conducted in November 2012 found that sixty-five percent of Russians want fewer migrants in the country and seventy-three percent favor increased deportation. Migrants report living with persistent anxiety in Russia, fearing not only far-right extremists but also "law enforcement representatives as a primary threat to their lives, health, and well-being," according to the NGOs' alternative report to the UN CERD Committee.
At a time when Russia needs to focus on the safety of its migrant labor force, officials are instead launching programs that can fuel xenophobia and encourage suspicion and vigilantism. On February 13, almost simultaneous with the CERD dialogue, officials in Moscow announced a program to enlist members of an anti-migrant network as a "volunteer brigade" to help catch illegal immigrants. Members of the volunteer force will help Federal Migration Service officers conduct raids and patrols, check tenants' permits and even detain suspected lawbreakers.
Rights activists, including those appearing before the CERD Committee last week, stress that discrimination is not defined in Russia's legislation and there is no central anti-discrimination agency. The many victims of racially-motivated attacks and crimes cannot file complaints themselves; they are dependent on a prosecutor's prerogative to open a case.
The Kremlin formally endorsed migration as beneficial for the Russian economy, and signed a plan to promote immigration through 2025. However, immigration rhetoric and new policies from President Putin contradict this goal. On December 1, 2012, Russia delivered one of Putin's presidential campaign promises; it enacted a requirement that all migrant workers with service sector jobs pass a Russian language test to renew or receive work permits. Putin has also ordered increased immigration police raids, arrests, and deportations.
These policy changes reflect the changing relationship between Russia and the former Soviet republics of Central Asia. Ties providing a continued link and special affiliation between Russia and Central Asian nations are rapidly being severed—by both sides. In November 2012, Russia annulled a 1966 agreement with Kyrgyzstan that had streamlined the Russian citizenship process for Kyrgyz citizens. In his annual address to Parliament in December, Putin called for further restrictions on travelers from the former Soviet Republics, saying they should only be allowed to enter Russia with international passports. Previously, residents of countries like Uzbekistan, Tajikistan, and Kyrgyzstan were allowed entry with internal identification documents.
At the same time, inside the Central Asia republics, the Russian population has decreased drastically since the end of the Soviet Union—and along with it, the use of Russian language. Particularly for young Central Asian migrant workers who did not grow up under Soviet rule, the language exam will not be easy to pass. As these Central Asian migrants know best, Russia's increasing immigration restrictions against the very people who populate its labor force threaten not only its own economy, but also the livelihoods of millions of Central Asian families inside Russia and in their home republics.
To curtail emigration, Central Asian governments need to achieve economic growth and lift citizens out of poverty. Until such broad changes can be realized, Russia should protect the millions of workers who are vital to its own economy, and bring its policies on immigration in line with its rhetoric.
Andrea Ó Súilleabháin is a Visiting Fellow at the International Peace Institute.
About the photo: Migrant workers in Sochi, Russia, work in construction in advance of the 2014 Winter Olympic and Paralympic Games.  Photo credit: Human Rights Watch