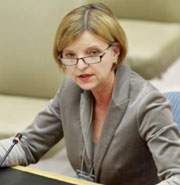 For the past 18 months, Karin Landgren has been the Special Representative of the Secretary-General (SRSG) and head of the UN Office in Burundi (BNUB), and she says that though donor interest in Burundi may be wavering, there is still a lot of work to be done. "Burundi has made it through horrendous conflict in a period that Burundians themselves call the dark years," she says, "and it would be a shame—and it would be premature—for the international community to kind of wipe their hands of Burundi now and turn away."
On the question of Burundi being labelled "rebellion prone" by the international press, she says that may be in the past. "The spark really isn't there in Burundi, and probably the fatigue is there to not want to go back to a fresh conflict," she says. "So whatever may have been on the minds of some of these [rebel] parties, I think that phase is over for Burundi."
Ms. Landgren, who is leaving her post to become the Special Representative of the Secretary-General for Liberia, also discusses the evolving political process leading up to the 2015 elections; the progress with the Peacebuilding Commission (PBC) and the state of donors and good governance policies; and transitional justice issues.
The interview was conducted by Warren Hoge, Senior Adviser for External Relations at the International Peace Institute.
Listen to interview (or download mp3):
Interview Transcript:
Warren Hoge (WG): Our guest today in the Global Observatory is Karin Landgren, who has just completed 18 very busy months of service as Special Representative of the Secretary-General (SRSG) and head of the UN Office in Burundi (BNUB), and is this month taking up a new post representing the Secretary General and heading up the UN Mission in Liberia (UNMIL).
Karin, Burundi on July 1st celebrated 50 years of independence, though it has been a very difficult half century for the country. The international press is fond of calling Burundi "rebellion prone." Is that correct? And if it's not correct, what should it be saying?
Karin Landgren (KL): Burundi started out very well after the peace agreements of August 2000 with transitional government, with carefully calibrated agreement on ethnic quotas, with commitments to transitional justice, and so on.
One difficulty already at the outset was that two major rebel groups were not part of that negotiated agreement. They came in only later. So some observers wonder if their commitment to those principles was as absolute as those who had gone through the Arusha process. Burundi had a good election in 2005. And then in the 2010 election after the first round – the first of five rounds – the opposition pulled out. Very unfortunate for democracy in Burundi because it allowed the ruling coalition to have pretty much a clean sweep, and the president was elected with over 95 percent of the vote.
It doesn't surprise me that parties who had been rebel groups in the past went back to being rebel groups – or at least toying with the idea of fresh rebellion in their dissatisfaction with the electoral process, and most importantly the electoral results. But Burundi is past that. That peace agreement really went to the heart of what was causing crisis in Burundi up until that point. And I think those parties who toyed with rebellion – toyed with going back to the bush – have realized that that's suicidal. The spark really isn't there in Burundi, and probably the fatigue is there to not want to go back to a fresh conflict. So whatever may have been on the minds of some of these parties, I think that phase is over for Burundi.
WH: Let me continue that thought, because Burundi is in this odd situation now of having a Parliament in which the opposition party has no representation. Burundi is also a country that will have elections in 2015. I know it has had two successful elections, but obviously this one carries a different kind of promise. What is being done to increase the political space, to give the opposition incentives to come back and join the process – I'm thinking of the process leading up to the election – and what effect will that have on the election?
KL: We're at the halfway mark now between the 2010 elections and the next elections in 2015. And the opposition has been pretty clear on their wish to return to the political process. Some but not all of the opposition leaders are outside the country. I'm encouraged that the government has said it's ready to discuss the conditions for their return. I'm encouraged that the opposition has denied any intention in engaging in rebellion. I think what needs to be found now is guarantees of the safety of opposition leaders if they do come back, some platform on which they can be engaged in preparation for the election, and above all assurances that political parties are allowed to go about their business in the country.
The UN mission has been concerned at seeing increasingly this year difficulties for political parties even to hold routine meetings outside the capital, Bujumbura. They have to go through a process of requesting permission, which really isn't how it should be. The UN mission's mandate is to encourage political dialogue, and really to encourage the participation of all in politics. So a lot needs to be done to have genuine participation for the 2015 elections, and that needs to start now.
WH: Burundi is one of the first two countries to go on the agenda of the Peacebuilding Commission (PBC). That has now been five or six years. How is that progressing?
KL: Burundi did very well from being on the Peacebuilding Commission's agenda. That as you know triggers funding from the peacebuilding fund, and Burundi has had well over 40 million dollars from the peacebuilding fund. Quite a bit of that has gone into support for the integration of the demobilized former rebels, although more is needed in that respect as well. I'm told the peacebuilding fund has now come to the end of money it can allocate to Burundi, bearing in mind how much is given to other countries on the agenda. So the question is what else and what more the PBC can bring to this agenda.
Of course there is the advocacy issue, and the more voices encouraging the leadership of Burundi, and the opposition to find ways forward, the better. The government has made clear that it is looking to the PBC to mobilize donors. Burundi is a donor orphan. Not only have some donors left in the last few months, but there's also a marked reluctance of donors to provide direct budget support. So Burundi is currently facing a bit of a crisis in terms of budget shortfall. It really is quite serious. The hope is that the PBC will be able to encourage nontraditional donors to step up to the plate to let Burundi continue to feel supported.
Burundi has made it through horrendous conflict in a period that Burundians themselves call the dark years, and it would be a shame and it would be premature for the international community to kind of wipe their hands of Burundi now and turn away.
WH: Burundi is one of the poorest countries in the world, and I know the government has stated its intention of erasing Burundi from the list of poorest countries by 2020. That strikes me as awfully ambitious. Is that possible?
KL: Burundi faces a lot of challenges on the poverty front. What we're seeing at the level of government is that intentions are very good, and some excellent policies and strategies have been adopted, including a policy against corruption, and strengthening of good governance.
There's a very dynamic minister of good governance. But there is a real gap between these policies and strategies and implementation. It shouldn't surprise us at all in a post-conflict context that capacity is very weak, and the ministry's struggle even to pull together program proposals, funding proposals. Now we're hoping that with the poverty reduction strategy just adopted, which is what we call second generation – it also includes peacebuilding and stability – that there will be a fresh revival of interest among donors, and that the government will come up with some solid sectoral programs.
We know the energy sector has to take off for investment to be promoted. We know that with 93 percent of the population engaged in agriculture, there has to be some diversification, because this is a population that barely feeds itself, and until they move into other export industries, that is unlikely to change.
So yes, this is an ambitious target, but it's also a reminder to the rest of us that Burundi is going to need a lot of support pulling itself out of extreme poverty. And that's one of the keys to future stability. Many people say now the issues at the root of the conflict were land and poverty rather than ethnicity. And so unless the economy improves, we would have worries about stability really being consolidated in Burundi.
WH: Is that what will be before the donor's conference scheduled in October in Geneva?
KL: The donors – donors and partners I would say – will be looking at the poverty reduction strategy. That should be accompanied by Burundi's list of priorities and a breakdown of the funding needs. At this point in 2012, Burundi already faces a budget shortfall of something like 27 million dollars. So, we're looking at plugging gaps as well as going beyond that and funding the needs of the next four/ five years in the poverty reduction strategy.
It's a huge challenge but one of the things that should encourage us is that Burundi has been making strides in where it's rated in the doing business assessment. It was I think two steps from the bottom – it was in 181st place on doing business, it really couldn't fall any further, and it's gone up by 12 places just in the space of well under two years. So there is real determination there to make it an investment destination. But I think I've mentioned the challenges, which are also enormous.
WH: A country like Burundi, with its history of being convulsed by violence and conflict in the past, obviously confronts great challenges when it comes to transitional justice and creating justice systems accounting for its past as well as pointing toward its future. Where does that situation stand in Burundi?
KL: Transitional justice was a critical element of the Arusha Peace Accords. The rebel groups that came in from the cold later on negotiated separate agreements which actually accord provisional immunity until a TRC (Truth and Reconciliation Commission) is established. The UN has worked very hard since 2006 on proposals to set up a TRC and a separate independent tribunal. We still regard that as key to reconciliation in Burundi, and especially as key to signaling that impunity can't be allowed to continue.
There is a sense of nervousness among some of the actors at what could come out in the truth-telling around a TRC. There are concerns about witness protection after the process. Burundi is not, it's safe to say, a very talkative society, so when the government says that people have already reconciled, it's hard to say how far that has really gone. It's probably true that they don't talk much about the past. But whether this can simply be buried is doubtful. So, our assessment is that some process is needed, and that it has to conform – if the UN is going to support it as we would like to do – it has to conform to basic international standards around, for example, not granting amnesties for war crimes, around having a representative TRC, around having an independent tribunal which is really independent from the TRC process.
And this is where 2012 is going to be pivotal. In 2011, a lot of planning was done for the start of transitional justice, and the government has said that this will begin before the end of 2012. So we'll see in the next six months if this reluctance that we now perceive can be overcome.
WH: Karin Landgren thank you so much for visiting with us and telling us about your experience in Burundi, and best of luck as you go off to Monrovia, and we will have you back here sometime in probably the year to come to talk to us about the experience you're having in Liberia.
KL: Thank you Warren, look forward to that.