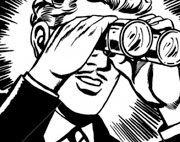 At the start of every month, the Global Observatory posts a list of key upcoming meetings and events that have implications for global affairs.
Security
March 5: Prime Minister Benjamin Netanyahu of Israel visits the United States
In the context of the current tensions over Iran and how to deal with its nuclear program, Netanyahu's meeting at the White House is particularly important. Israeli newspapers Haaretz and Israel Hayom reported that Netanyahu wants Obama to deliver an explicit military threat to Iran in a joint statement to be issued after the meeting. This visit is also likely to impact the ongoing US presidential campaign.
March 12: UN Security Council debate on recent events in the Middle East and North Africa
Under UK Presidency, the Council will hold a debate to discuss challenges and opportunities for peace and security in the region after the dramatic events of last year. UK Foreign Secretary William Hague will preside, while three foreign ministers from the region, including Rafik Abdessalem of Tunisia, will brief the Council's members.
March 14: International Criminal Court to issue first verdict
Close to the end of the tenth year of the ICC's existence, and in the final months of Luis Moreno-Ocampo's term as Chief Prosecutor, the ICC is expected to issue its first verdict in the trial of former Congolese warlord Thomas Lubanga Dyilo. Lubanga has pleaded not guilty in a trial, which began in 2009 and nearly collapsed several times over confidentiality issues regarding sources used by the prosecution. The case against Lubanga has been welcomed by human rights groups, but the narrow scope of the prosecution, focusing solely on the enlistment of child soldiers, was subject to serious criticisms.
March 26-27: 2012 Seoul Nuclear Security Summit
This second meeting–the first one was held in 2010 upon the initiative of President Barack Obama– will bring together 53 heads of state and representatives from the UN, the EU, the IAEA, and INTERPOL. The summit will discuss cooperative measures to combat the threat of nuclear terrorism, protection of nuclear materials and related facilities, and the prevention of illicit trafficking of nuclear materials. The situations in Iran and North Korea will not be discussed in Seoul. An official outcome is expected in the form of the "Seoul communiqué" which will be adopted at the end of the conference.
March 26-27: 5th Regional Economic Cooperation Conference on Afghanistan (RECCA-V), in Dushanbe, Tajikistan
This meeting ties in with wider efforts of the international community to increase regional economic cooperation, including the United States' "New Silk Road" strategy. Discussions will include infrastructure development, promoting vocational education and training, and advancing investment, trade, and better border cooperation. The conference website is here.
March 29: Arab League Summit in Baghdad, Iraq
After multiple delays, the Arab League Summit finally looks set to take place at the end of March. Thirteen presidents and kings have announced their attendance, according to Iraqi officials. This meeting comes amid increasing tensions between Shiites and Sunnis, continuing concerns over Syria, and controversy and anxiety over the region's relationship with Iran.
Also of interest:

• March 5-9: The IAEA Board of Governors Meeting in Vienna

• March 16: the UN Security Council is expected to renew the mandate of the mission in Libya (UNSMIL)

• March 19-23: Preparatory Committee for the United Nations Review Conference on the Programme of Action to Prevent, Combat and Eradicate the Illicit Trade in Small Arms and Light Weapons in All Its Aspects

• March 23: the UN Security Council is expected to extend the mandate of the mission in Afghanistan (UNAMA) for an additional 12 months
Elections
March 2: Parliament (Majlis) Elections in Iran
Iran's last national elections in 2009 ended up in wide protests, leading to mass detentions and the house arrest of two presidential candidates. On March 2, Iranians will have their first chance to vote since then, this time for the country's majlis, or parliament. Candidates must be vetted by the Ministry of Interior. This means that many reformists will not make it on the ballot, increasing the competition within the conservative camp, which is also strengthened by the deteriorating relationship between President Mahmoud Ahmadinejad and Ayatollah Ali Khamenei.
March 4: Presidential Elections in Russia
After tens of thousands of people have taken to the streets across Russia, Prime Minister Vladimir Putin will seek a new mandate as President of Russia on March 4th. In a survey conducted in mid-February by Russia's biggest independent polling agency, the Levada Center, 66% of those who planned to vote and had chosen a candidate said they would vote for Putin. His closest competitor, with 15% of projected votes, is Gennady Zyuganov, Communist Party leader, who already ran three times in the past, coming second against Yeltsin in 1996, Putin in 2000, and Medvedev in 2008.
March 17: Presidential Elections in Timor-Leste
The presidency is a largely ceremonial post in Timor-Leste. However, the presidential election in March will be a prelude to the important June parliamentary elections. President Jose Ramos-Horta is running again. Other frontrunners include Francisco Guterres from the opposition Fretilin party, Fernando Araujo, speaker of the national parliament, and Taur Matan Ruak, former chief of the armed forces who is running as an independent and got Prime Minister Gusmao's party support. In the absence of opinion polls it is difficult to project any results. However, a recent ICG report suggests that no party will have the majority, and a coalition government is likely. A period of intense bargaining among the parties is likely after the elections, just as UN police and Australian-New Zealand military peacekeepers prepare to withdraw.
March 18: Presidential Elections Run-off in Senegal
The second round of presidential elections in Senegal has to be watched closely. On February 26, Senegal went to vote after weeks of protests and riots, spurred by President Wade's decision to run for a third term. He will face Macky Sall, once Wade's protégé and former Prime Minister in 2004-2007.
Also of interest:

• March 2: Senate Elections in Pakistan

• March 11: Legislative Elections in El Salvador

• March 18: Presidential Elections in Guinea-Bissau

• March 29: Parliamentary Elections in The Gambia

• March 31: Parliamentary Elections in Mauritania
Other Multilateral Meetings
March 12-17: Sixth World Water Forum in Marseille, France
The world's largest meeting on water will bring together a total of about 25,000 participants, including more than 140 ministerial delegations, and will take place in Marseille, France. The forum takes place every three years and it was convened for the first time in 1997. A key focus of the meeting will be finding solutions for problems related to water, be they institutional, technical, legal, financial or communication-related.
March 22-27: AU Conference of Ministers of Economy and Finance and ECA Conference of African Ministers of Finance, Planning and Economic Development in Addis Ababa, Ethiopia