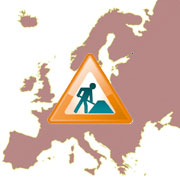 In the Charter of Paris for a New Europe signed on November 21, 1990, the leaders of states participating in the Conference on Security and Cooperation in Europe (CSCE) — which later became the Organization for Security and Co-operation in Europe (OSCE)—declared that "the era of confrontation and division of Europe has ended" and that "henceforth our relations will be founded on respect and cooperation."
While the end of the Cold War was certainly a momentous achievement, the idea of a Europe "whole and free" has not been realized. Indeed, in the more than two decades since the Paris Charter Summit, every one of the ten principles of the CSCE's founding document, the Helsinki Final Act (1975), has been violated.*
In 2008, Russian President Dmitry Medvedev called for a new security treaty for Europe. But this new security architecture lacked a blueprint. At the OSCE Astana Summit in December 2010, agreement was reached on a declaration entitled "Towards a Security Community." A group of former senior officials, known as the Euro-Atlantic Security Initiative, (EASI), recently produced a document with almost the same title: "Toward a Euro-Atlantic Security Community." But what is this security community, and what will it take to build it?
Key Conclusions
What started as a vague Russian initiative to sideline the OSCE—the world's largest regional organization under Chapter VIII of the UN Charter —has turned into a process designed to enhance the organization. While the OSCE Vilnius ministerial council meeting of December 2011 was at times acrimonious, it demonstrated that there is still enough common ground on which to build, and consensus among the OSCE's 56 states on the need for preventing conflict within the OSCE area. But while OSCE states know where they want to go, they are still not clear how to get there. Furthermore, the idea of a European security community will only gain traction if civil society and a wide spectrum of Europe's security-related institutions embrace the idea. Fresh thinking from outside the organization can help introduce new ideas that can help turn the vision of a European security community into a reality.
Analysis
The foundations of the European security community were laid in 1975 with the Helsinki Final Act. They have been built upon through subsequent CSCE/OSCE decisions.
The vision of what the European security community should look like was set out in the Paris Charter of 1990. If there was any doubt, it was reiterated at the OSCE Astana Summit in December 2010: "a free, democratic, common and indivisible Euro-Atlantic and Eurasian security community stretching from Vancouver to Vladivostok rooted in agreed principles, shared commitments and goals." This security community should be "free of dividing lines, conflicts, spheres of influence and zones with different levels of security."
However, the plan of action to turn this vision into a reality was not agreed upon in Astana. Furthermore, a year later, at the OSCE Vilnius ministerial meeting in December 2011, only small steps were taken towards the realization of a European security community. One sticking point is that Russia would prefer to have the OSCE based on a solid legal charter, which some countries (like the United States) resist. Another issue is that countries outside the EU call for greater freedom of movement, which the EU firmly opposes. Arms-control talks are deadlocked, and negotiations on resolving conflicts in Georgia, Moldova, and over Nagorno-Karabakh are making little progress (with the exception of a resumption of dialogue over Transdniestria).
Enter the Euro-Atlantic Security Initiative (EASI). This group of former senior officials**, working under the umbrella of the Carnegie Endowment for International Peace, has just issued a report to try to inject some new ideas into the process of building the European security community. What is slightly confusing is that their focus is on the Euro-Atlantic area, while (according to the OSCE Astana declaration) a European security community also include Eurasia. This begs the question as to the extent of this security community–especially now that the OSCE is considering the possibility of Mongolia becoming the 57th participating state.
While some would argue that NATO enlargement was one of the reasons why new dividing lines have been created in Europe since the end of the Soviet Union, most EASI members seem to want to make the best of NATO-Russia dialogue. The report's authors also seem to think that by working together, the EU, Russia, and the United States can solve all of Europe's problems: of course, all three have to be pulling in the same direction, but they must also win over key stakeholders and possible spoilers, as has been evident in parts of the Balkans, Caucasus, and Central Asia over the past twenty years.
The EASI group puts forward some interesting ideas. For example, it stresses the importance of cooperative missile defense. The report highlights the importance of addressing issues of energy security, particularly in relation to natural gas. The Arctic is identified as a region that should become a zone for cooperation before it becomes a flashpoint. Recommendations are made on how to promote historical reconciliation and the resolution of protracted conflicts. And, quite remarkably, they say that "leaders, under the auspices of the OSCE, should announce the goal of visa-free travel across the entire region."
In a separate report, the EASI members underline the importance of engaging Turkey. As they point out, Turkey figures prominently "in the historical obstacles that must be overcome if North America, Europe and Russia are to make of themselves a common economic and security space," so it must be part of the solutions.
Perhaps unsurprisingly, the European security community develops the greatest sense of common purpose when it deals with threats and challenges that do not originate from any one of its states. There is common concern about instability in "adjacent areas" like Afghanistan, Iraq, and North Africa. There is a meeting of minds on the need to do more against the threat posed by transnational organized crime. And, although it is seldom stated, there is a high degree of like-mindedness of the dangers posed by extremism (particularly Islamic), as well as the growing influence of China.
Further ideas will be generated by another initiative that will hold a series of meetings throughout 2012: the Initiative for the Development of a Euro-Atlantic and Eurasian Security Community (IDEAS) which is an academic enterprise jointly launched by four European institutes from France, Germany, Poland and Russia.
Uniting against external threats and challenges, and working together to overcome internal divisions should rebuild some of the trust that has been lost among OSCE participating states. The European security community is still a work in progress, but at least there are signs of life on the construction site.
Walter Kemp is Diector of the Europe and Central Asia Program at the International Peace Institute
*These include: respect for sovereignty; refraining from the threat or use of force; inviolability of frontiers; territorial integrity of states; peaceful settlement of disputes; non-intervention in internal affairs; respect for human rights and fundamental freedoms; equal rights and self-determination of peoples; cooperation among states; and fulfillment in good faith of obligations under international law.
**The Initiative is co-chaired by Wolfgang Ischinger, Igor Ivanov and Sam Nunn.