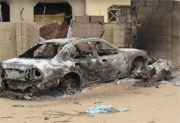 The Nigerian-based terrorist organization Boko Haram is gaining international attention as a threat contributing to instability in Nigeria and potentially beyond. In early November 2011, Boko Haram carried out coordinated terrorist attacks that left 100 dead in the northern state of Yobe, Nigeria. The attacks illustrated the growing sophistication and capabilities of the organization. The US embassy in the Nigerian capital Abuja issued a warning that the group might be planning to attack luxury hotels frequented by westerners. In recent days, Boko Haram claimed responsibility for a string of bombings targeting government buildings and churches in Geidam, in northeastern Nigeria. Following the attacks, Boko Haram's spokesperson threatened, "Until all our members in detention are released and the Yobe state government stops intimidating and harassing our members, we will continue carrying out attacks in the state."
Key Conclusions
Boko Haram is as much a political as it is a military issue. The appeal of the group's message is a reflection of longstanding grievances among northern, largely Muslim Nigerians, which Boko Haram successfully exploits. Because of growing speculation that Boko Haram has links to al-Qaeda in the Islamic Maghreb and al-Shabaab in Somalia, western states, including the US and France, are assisting Nigerian security forces. However, the Nigerian police are widely distrusted in the north of the country, and western support could backfire by further radicalizing segments of the population. Foreign assistance should ensure that military measures are grounded in the rule of law and are matched by economic development assistance in the north. In addition, The UN Security Council's Counter-Terrorism Executive Directorate (CTED), which has provided technical assistance to Nigeria on counterterrorism, should urge the Nigerian government to conduct counterterrorism with respect for human rights.
It remains to be seen whether the Nigerian government will continue with a predominantly military response or pursue a negotiated settlement. However, a sustainable peace agreement would likely rest on the Nigerian government's ability to address the underlying grievances fueling support for Boko Haram, including reducing corruption, promoting economic development among disenfranchised groups, and working to consolidate civic nationalism to assuage sectarian tensions in Nigeria.
Analysis
Boko Haram is a unique militant organization in Nigeria, which is fundamentally a manifestation of larger unaddressed sectarian tensions in Nigeria between Muslims and Christians, respectively representing roughly 50 and 40 percent of the country. These tensions have often been exacerbated by political elites, who have historically exploited ethnic divisions for political gains.
The politicization of religion in the largely Muslim north can be traced back to the return of civil rule in Nigeria in 1999, following two decades of religious revivalism, when state governors began implementing Sharia in many of the northern states (Nigeria is a federal state) and adopting relationships of patronage with religious leaders for political ends. Mohammad Yusuf, a Muslim fundamentalist committed to purifying Islam and implementing an Islamic government in Nigeria, created Boko Haram in 2002. The group, whose name literally translates from Hausa as "Western education is forbidden," has stated its objective to overthrow the secular Nigerian government and establish a fully Islamic government.
Under Yusuf's leadership, Boko Haram sought to establish his vision of "true" Sharia through armed rebellion. They focused mainly on local targets, such as police stations, northern elites, and Muslim clerics that had condemned the group's tactics. In 2009, in a clash between state security forces and Boko Haram, the Nigerian security forces were accused of using disproportionate force and extrajudicial killings, which left 800 dead and resulted in the execution of Mohammad Yusuf. The heavy-handed military response left the north with a strong distrust for the Nigerian police force, which was successfully exploited by Boko Haram. The group also co-opted other longstanding grievances among northerners to justify their cause and gain sympathizers, such as government corruption and unequal economic growth viewed as benefitting the largely Christian south.
In the years that followed, despite losing their leader, Boko Haram took on a more decentralized form and showed increasingly sophisticated tactics. The rise in suicide bombings, including the bombing of UN headquarters in Abuja in August, exemplified the growing capabilities and international reach of the organization.
In September, President Goodluck Jonathan received the final recommendations of a committee he established to consider pursuing talks with Boko Haram. The committee has recommended an amnesty program resembling one undertaken in the oil rich Niger delta, which offered members of the Movement for the Emancipation of the Niger Delta (MEND) a stipend and job training to lay down arms. The amnesty program in the Niger Delta established a period of relative peace; however, it is now experiencing increased violence because of a failure to address severe poverty and inequalities in the region. Similarly, peace may not be sustainable in the north without promoting economic development, building inter-communal relations, and addressing issues of corruption and police brutality. Critics have also argued that negotiations with Boko Haram would be more difficult because the leadership is unknown and the group's demands are unclear. Though it is evident that segments of the group are driven by ideology and the desire to implement Sharia, others are likely motivated by socio-economic and political reasons.
To complicate the picture, international attention to Boko Haram has increased because of general concern over rising Islamic fundamentalism in Africa and the fear that the group may have links to terrorists groups such as al-Qaeda in the Islamic Maghreb (AQIM) and al-Shabaab in Somalia. The US, France, and other western states have focused largely on military assistance, but Boko Haram has proven to be resilient, and is unlikely to be solved through military means alone. A more comprehensive approach would be to recommend the Nigerian government to pursue political dialogue and reform. International organizations, viewed as more neutral parties, such the UN Security Council's Counter-Terrorism Executive Directorate (CTED), should encourage the Nigerians government to pursue counterterrorism measures that are compliant with international human rights standards.
About the photo: A car burned during a crackdown on Boko Haram. Photo: Aminu Abubakar/IRIN