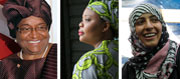 This year's Nobel Peace Prize was awarded to a trio of women—Liberia's President Ellen Johnson Sirleaf, Liberian peace activist Leymah Gboweeand, and Yemeni advocate Tawakkul Karman—for their "non-violent struggle for the safety of women and for women's rights to full participation in peacebuilding work," according to the Norwegian Nobel Committee. The UN Secretary-General hailed the winners as "inspirational women of uncommon courage, strength, and commitment," saying that the Norwegian Nobel Committee sent a clear message: "women count for peace."
Key Conclusions
The 2011 Nobel Peace Prize does not refer to a single cause (e.g. "peaceful solution to the conflict in Northern Ireland"), but instead is shared across causes and regions—a rare event in the awarding of the prize. This seems to confirm the symbolic value of the decision of the Norwegian Nobel Committee in recognizing women's role in peace and human rights, rather than a specific achievement. It is a choice of people as a symbol of a cause.
This carries some risks. First, rewarding aspirations rather than achievements gives more room to those who criticize the Peace Prize as politicized. Second, it focuses the attention on women for women's right, rather than recognizing women's role in the achievement of the universal goal of peace for humanity.
Analysis
Too few women have been recognized for the Peace Prize. Since 1901, the prize has been awarded 92 times to 124 laureates: 99 individuals and 23 organizations. Only 15 individuals have been women. And awarding women for peace is a recent trend: eight of them were recognized in the last 20 years.
Most observers will remember Mother Teresa in 1979, Aung San Suu Kyi in 1991, and Wangari Maathai from Kenya in 2004, who passed away last month. But, it remains mind-blowing that between 1946 and 1976, no women are among the Nobel Peace Laureates.
Nobel Peace Prizes are sometimes controversial, especially when the motivation stresses efforts and aspirations rather than actual achievements. This year, the least controversial is the recognition of Leymah Gbowee, who helped found the Women in Peacebuilding Network which pushed for a peace settlement in Liberia using aggressive nonviolent means, including prayer and sexual "strikes."
On the other hand, the prize to her compatriot, President Ellen Johnson Sirleaf, drew more criticism. In Liberia, there have been mixed reactions, mainly due to the less-than-ideal timing of the announcement, just a few days before presidential elections. The opposition did not waste time pointing out Liberia's lack of economic development under Johnson's current presidency. And then there is her initial support for Charles Taylor (she has since apologized), which is a stain on her peace credentials.
The third 2011 laureate, Tawakul Karman, is the first Arab woman to receive the prize. She has not been immune to controversy either, due to her unwillingness to compromise and her role in urging demonstrators to opt for escalation, which caused violent reactions from the government's forces.
Her inclusion in the trio, however, is an important reward for the Arab world. Not only does it recognize the critical role that women have played in the Arab uprisings, it also sends a message—albeit symbolic—of Western acceptance of Islamist movements as contributors to peace and women's empowerment. Ms. Karman is a member of the conservative Islah party with links to the Muslim Brotherhood. She belongs to a rare breed of activists often referred to as "Islamist feminists."
Thorbjoern Jagland, head of the Nobel committee, said it was difficult to find one leader of the Arab uprisings who stood above all others. So, the committee went for the broader theme of women as peacemakers, clustering three very different personalities who operate in different contexts and at different levels. It linked the three laureates using the gender theme. In fact, the motivation makes direct reference to UN Security Council Resolution 1325, which emphasizes the role of women in peace processes. Human rights also served as liaison for these three different laureates.
Rewarding aspirations and efforts, rather than achievements in peace, is a growing trend in the awarding of the prize, and it can carry some risks. Focusing on aspirations and processes (one could think of the recent prizes to President Obama or Al Gore and the IPCC) can give ground to the criticism of politicizing the award.
There is a second challenge that the Norwegian Nobel Committee will face for its future choices. While women deserve more Peace Prizes, they should be recognized for their brave leadership in peace beyond their role as activists for women's rights. This would help to move away from the image of women as victims to their active contribution to the universal goal of peace for humanity.
Photo credits: A. Cruz/ABr. Creative Commons License Attr. 2.5 Brazil; Michael Angelo for Wonderland; Ahmed Jadallah/Scanpix