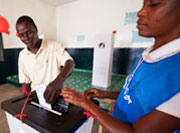 Nobel peace laureate Ellen Johnson Sirleaf came out ahead in provisional results from the first round of Liberia's presidential election last week. While the incumbent president is unlikely to reach the fifty percent hurdle required for an outright win in the first round, her chances of winning the now-imminent runoff increased on Monday when third-place candidate, former warlord Prince Johnson, threw his support behind her.
However, the outcome remains uncertain—Prince Johnson's National Union for Democratic Progress (NUDP) now says their leader should withdraw his apparently unilateral decision to support Johnson Sirleaf.
And, after widespread praise for a peaceful first-round vote, violence cannot be ruled out in the lead up to the second round, likely to take place on November 8th. Opposition parties alleged electoral fraud over the weekend and pulled out of the electoral process before deciding to reengage with it again. In the interim, the district headquarters of Johnson Sirleaf's Unity Party was set on fire, and a radio station, perceived to be aligned with the opposition, was firebombed.
Key Conclusions
To maintain Liberia's fragile peace in the short term, the National Elections Commission will have to work hard to ensure a free and fair second round if it comes. Influential national and regional political figures will then have to convince voters of the legitimacy of the process regardless of the outcome. They will also need to create a space for dialogue. The aggressive tone already set during the pre-election campaign—leading rival Winston Tubman to claim that "the only way we will not win is if we are cheated"—also points to tensions in Liberian society that will need to be addressed beyond the election itself. Even if peace can be maintained until after the second round, Liberia's next president will need to address much deeper threats to the country's stability in the long run: corruption, unemployment, and pervasive distrust.
Analysis
Liberia has come a long way since the 1989-2003 civil wars that killed nearly a quarter of a million people. The award of the Nobel Peace Prize to President Johnson Sirleaf and grassroots peace activist Leymah Gbowee (as well as Yemen's pro-democracy campaigner Tawakkol Karman) is a testament to the concerted effort on many levels of society to prevent a return to violent conflict. As president, Johnson Sirleaf gained international forgiveness for Liberia's $4.6 billion debt, stabilized the country's finances to attract foreign investors, and presided over a period of peace unprecedented in Liberia's recent history.
But at home, the Harvard-educated economist—and the first elected female president in Africa—is not always as highly regarded as she is abroad. The World Bank, Sirleaf Johnson's former employer, estimates that more than 80 percent of the Liberian population lives on less than $1.25 per day. Eight years after the Accra Peace Accord was signed, high unemployment persists and citizens cannot count on much-needed services, from the electricity supply to the education system. Widespread corruption—of which Johnson Sirleaf's own party stands accused—also points to the need for deeper social and political transformation if peace is to be sustained.
Winston Tubman, a former UN diplomat, Harvard-educated lawyer, and nephew of a previous Liberian president, has emerged as Johnson Sirleaf's main challenger with approximately 32 percent of the vote, trailing her current 44 percent. His running mate, football star George Weah, won the first round of the 2005 presidential elections but lost to Johnson Sirleaf in the runoff. While Tubman has maintained that his supporters may be difficult to control if he does not win, Weah has been accused of inciting violence at rallies.
Partly due to the failures of Liberia's Truth and Reconciliation Commission, memories of war continue to cast a dark shadow over political life in the country, as evidenced by Senator Prince Johnson capturing 12 percent of the vote. Johnson is notorious for his role in the torture and killing of the Liberian dictator Samuel Doe in 1990 and had said he would appoint former rebel leader Charles Taylor as foreign minister if he won the election. Winston Tubman now claims he would not rule out a government position for Taylor if the latter is acquitted of the war crimes he is currently on trial for in The Hague. Johnson Sirleaf also briefly supported Taylor when civil war broke out in 1989, before becoming disillusioned with his methods.
If Prince Johnson had decided to support Tubman in the runoff, it would have been a very tight race. Instead, Johnson Sirleaf is likely to go into the second round as the stronger candidate. But this does not mean that potential spoilers on all sides have disappeared. And idle ex-combatants could still provide them with support if tensions grow, as their recent participation in neighboring Côte d'Ivoire's crisis demonstrates.
Sirleaf Johnson's success in attracting international aid, and foreign investment from the likes of Chevron, Firestone, and ArcelorMittal, has not yet translated into broad-based development and jobs for Liberia's young population. And ongoing corruption and impunity for human rights violations have contributed little to rebuilding trust in a divided society. As the country's first locally-run presidential polls since the end of the civil wars, these elections will mark a watershed for democracy in Liberia if they pass off peacefully from here on in. If they don't, it will make it even more difficult to address the root causes of conflict in Liberia. Every potential president-in-waiting would do well to keep that mind.
About the photo: A voter casts his ballot in Liberia's constitutional referendum in Monrovia on August 23, 2011. UN Photo/Staton Winter